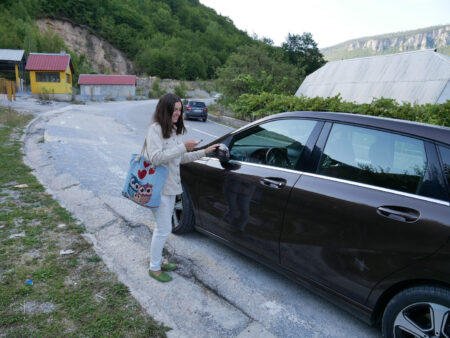 Our blog already has a detailed article about car rental.
But my husband clearly wrote it for other men. There is a lot of useful information, but it is written rather boring. To understand this, a girl needs to spend a lot of time and effort. Especially if she has not driver's licence.
So, I will tell you everything in simple words, with examples from personal experience and beautiful photos. That way it will be interesting and understandable for any girl.
If you want to know how to make a vacation in Montenegro truly incredible, feel free to keep on reading.
For those who have no time to read, I will write briefly: we rented a car on site Localrent.com. Here is a car review. We drove along this route.
I am just delighted with the trip and I recommend everyone to try the same ride at least once.
Why even rent a car when there are excursions?
We've been to Montenegro 5 times. During this time we took all excursions and traveled with guides, also we drove in different cars. For me, the most vivid impressions were from car rental. And here's why:
1 Excursions will be a great option if you don't want to think about anything. You pay some money, go to a bus stop in the morning and that's it. You will be taken along an interesting route, they will show and tell you something interesting about history of the country. So you will not worry or think how to organize your trip.
This is like a package tour. Everything seems to be fine, but boring and not very convenient. Everything is already decided for you: you will have to follow a tight schedule, there is never enough time, there will be many strangers who interfere when you're taking pictures or enjoying the surrounding beauty. A couple of people are always terribly slow. So the whole bus have to wait for them, which is very annoying.
I almost forgot: the food during such excursions are not tasty. But in the mountains there are places with amazing cuisine, which you really have to try! Later in the article I'll tell you some places that you should visit, which we really liked.
2 Private trips with a travel guide correct the basic flaws of excursions. There will be more interesting places and travel guide will adjust to you. Such an excursion priced 250-300 euroEURO EXCHANGE RATE:
300 euro = 357 USD;
300 euro = 258 British pounds;
300 euro = 35100 Serbian dinar;
300 euro = 38700 Japanese yen.
Exchange rates and prices may not be accurate. per day. You can take a car for 4-5 days for such money.
And again: a stranger will be with you. And sometimes you just want to be alone. When you stand in a beautiful place and there are no one around (except your husband, he is a photographer), the emotions are completely different than when there are still a lot of people nearby.
---
Car rental is a completely different story. You don't depend on anyone and feel like a real traveler. You can watch only what you want. No time limit. You can sit and wait at least 2 hours looking for the perfect moment for a photo. Or just take a break and have a coffee in a place with a stunning view where the group tour will never stay.
And that's not all. Only when renting a car you can plan a route for more than 1 day. I really love the mountain part of the country. It's incredibly beautiful and not as hot as at the coast. No crowds of tourists. And there are amazingly tasty and very inexpensive restaurants at the same time.
I decided for myself: when we will fly to Montenegro again, we will spend 3-4 days at the sea and then rent a car and swing into the mountains for two weeks. I would like to once again visit Durmitor, see at least half of the lakes, ride a horse and travel by boat, live in local wooden house.
Where I rent a car and why?
My husband and I quite often rent a car. The first time I was very worried, re-read a bunch of reviews and tips. In fact, everything is simple: book a car, pick it up, ride wherever you want.
We booked the car on the site Localrent.com. I cannot say that this is the most profitable option. But this one is really the best of those sites that we tried. Let's compare together:
1 Prices on the sites of large international companies are definitely higher. Here is a link to a metasearch engine so you can see for yourself. They say that sometimes there are promotions and discounts, but we never hit them.
By the way, for some reason, there are quite a lot of bad reviews about international companies. People write that the deposits are large, the cars are not very good and for the slightest scratch the fines are huge. For me it's scary.
The main nuance of such sites is not even that they are more expensive, but in the postscript "or similar." In the photo there is always expensive car, but in fact you don't know what they will give to you. We once booked an Audi A6. I already tuned in to this car, and they gave out an old Skoda Superb. It seems that it's also a normal car. But not at all what I dreamed about.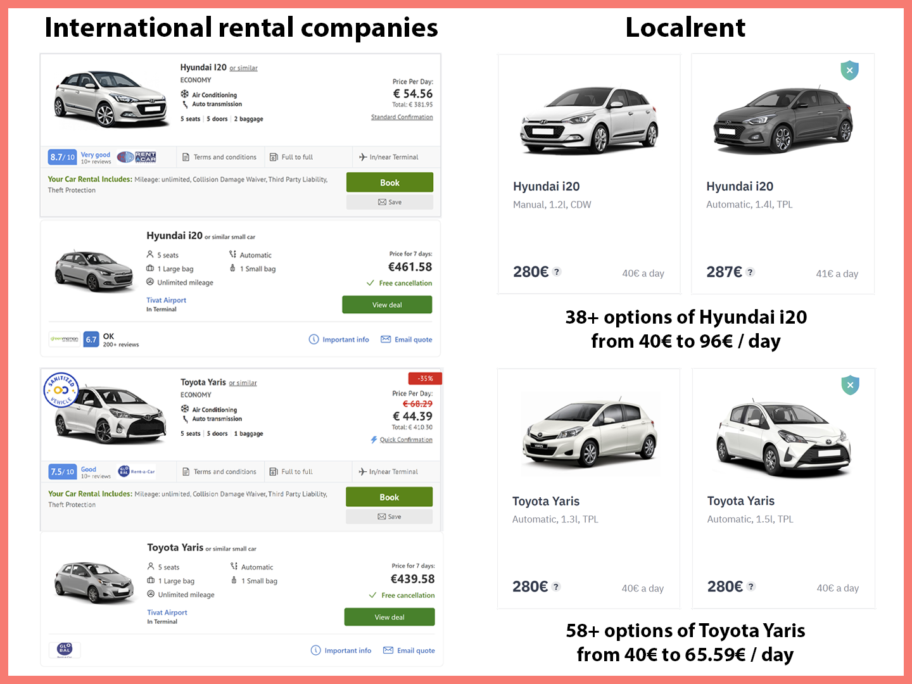 2Finding a car on the spot during a season is not a good idea. Passing by some rental companies, my husband constantly compares their ads with what we've booked. And yet he had never found cheaper option. There is an example of it later in the article.
Maybe in spring or autumn there is a chance to find something with a discount. But in summer all normal cars are taken in advance. Demand is huge. And if no one has rented a car, I always ask myself: "Why?"
Why is it cheaper and more convenient via Localrent?
As I already said, we booked a car on the site Localrent.com. We're satisfied, I can 100% recommend it!
Let me tell you why we choose this option:
1 Price. Localrent offers cars from local distributors. Prices here are lower than at international companies. And the attitude to customers is better. Here, read how easy we handed over the car at the airport. Awesome!
Since you can immediately compare offers of dozens of different rentals, they are forced to compete with each other. In order to get customers, some have to set prices even lower than when renting directly at their office.
2 Large selection of cars. There are a huge number of cars on Localrent. More than a thousand. Almost all good distributors work with them. You can choose exactly the kind of car you want.
3 Deposits, pledges, insurance. Many times I tried to understand insurance policy of international companies. Everything is very confusing and complicated there. It seems to me that even my husband does not fully know all the nuances. I clearly understood only one thing: international companies are VERY expensive. And if some small accident occurs insurance certainly will not help, since the deposit for a normal car is usually more than 1000 euroEURO EXCHANGE RATE:
1000 euro = 1190 USD;
1000 euro = 860 British pounds;
1000 euro = 117000 Serbian dinar;
1000 euro = 129000 Japanese yen.
Exchange rates and prices may not be accurate..
But everything is simple via Localrent. Each car have a description — what kind of insurance it will be, how much it costs (it may be free, like in our case) and what will it protect against. Similarly with deposit: you will immediately see how much money you need for it.
4 Reputation. I don't know almost anything about local distributors. Me and my husband may be standing in front of a beautiful office, but there is no way to know will it be the best rental in our life, or they will take all our money.
So for us it's easier with Localrent. I trust the site, and they know which distributors are good and which are not.
5 Possibility to plan your journey. When searching for a car on the spot it is very difficult to plan something. There is no guarantee that in August you will find a good car at a normal price. Especially for specific dates.
When booking online, this is not a problem. I can see which cars are available for the days I need and choose what I like most. In 99% of cases such a car will be given to me. The only exception is if previous driver break the car. It happens to us in Georgia, that time company gave us a much more expensive car. And we didn't pay more money for a much more premium car.
By the way, this is a main reason why I prefer Localrent. When I book a 2015 Mercedes B200 with a leather interior, I just want to get this car! And I definitely won't like it if they offer me Chevrolet or Skoda. Even if some internal company papers consider it as a similar machine. It's not fair to do that!
How to choose the perfect car for Montenegro?
There are a lot of conflicting tips about choosing a car on the Internet. I will try to answer the most common questions.
Manual or automatic transmission?
No difference. Take what you prefer. Manual transmission is a little cheaper, but constantly shifting gears is difficult when driving in the mountains.
Diesel or gasoline?
There is also no particular difference. Diesel is a little more economical and powerful. Gasoline cars are not so noisy.
Do I need a powerful car?
Depends on the route, number of people and weight of luggage. The  heavier the luggage, the more powerful car is needed. I would advise taking a car with 1.6L engine or bigger. It's usually enough.
We once drove a Toyota Yaris with 1.3L engine. It goes badly uphill, my husband swore constantly. And there were just the two of us, with only one suitcase. We won't take such car anymore, it's uncomfortable.
It's very pleasant to drive cars with 2L engine or bigger. If you can afford it — it's a great option.
Old or new car?
Old cars of that were produced in year 2008 or earlier are much cheaper. But you have to understand on what condition they will be. For example, the air conditioner will work poorly. It's a great disadvantage during the summer. Something may be buggy. I'm always afraid that such a car will break down on the road and we will have to wait for a replacement a long time.
It is difficult to expect anything special from an old car. But such cars have some pros too. For example, if you scratch such a car or put a small dent, most likely you wouldn't even charged for it.
New cars of year 2018 and 2019 are cool and comfortable. But they cost significantly more. And even the smallest scratch will be expensive. I would not take a completely new car for a trip to the mountains. It's a good chance that you'll scratch something and loose a part of the deposit.
I prefer to rent middle-aged cars. Somewhere from 2013 to 2017. They are still in excellent technical condition, but have already traveled a bit. Inexperienced drivers made some dents, scratched something. If you put a tiny scratch on a mountain road, the the dealer most likely will not take money from you.
It would be great to take such cars in a richer configuration. With leather seats, good climate control, soundproofing and other pleasant things.
Which insurance should I take?
The better insurance, the calmer the trip. When you know for sure that you risk maximum 300 euroEURO EXCHANGE RATE:
300 euro = 357 USD;
300 euro = 258 British pounds;
300 euro = 35100 Serbian dinar;
300 euro = 38700 Japanese yen.
Exchange rates and prices may not be accurate. of deposit, it becomes somehow psychologically easier.
All cars are going with TPL as standard. This means that if an accident is your fault and you smash into another car, insurance will pay for its repair. But you'll have to pay for the repair of a rented car from your pocket.
Some cars (usually new and expensive ones) are going with CDW or even SuperCDW for free. This insurance will also protect your car. Even if you scratch it in the parking lot. For many cases, this insurance can be bought for a small additional payment.
There is also such a thing as a green card (or International Motor Insurance Card). You will need it to go to Albania, Croatia, Serbia or Bosnia and Herzegovina.
What should I do if I scratch a car, get into an accident or something else happens?
Just write to your dealer and he will explain what to do. In general, you better immediately write to him in any uncommon situation. After booking they will give you a phone number. For example, we "tortured" our own dealer. We even asked him where a good car wash in Tivat.
That's why its better to always have at least some kind of Internet. My husband and I use DrimSim.
Which car did I choose?
I chose 2015 Mercedes B200. This is an incredibly cool car. It is small, but inside there is a lot of space and the interior is very comfortable. Rides smoothly, accelerates quickly. Look how cute it is.
Let me tell you what I liked about this car and why I would advise you to take it too:
Small size. Our car is not as big as, for example, VW Passat or Audi Q5, which we also considered. This is important, because we  drove along very narrow roads in the mountainous Durmitor and nearby Ostrog Monastery. But inside the car there is a lot of space. My husband is tall, but he was comfortable to drive.
Powerful diesel engine. When driving in the mountains, it is convenient to have a powerful car so it would easily goes up. Diesel is cheaper than gasoline (we paid

1.21 euro

EURO EXCHANGE RATE:
1.21 euro = 1.44 USD;
1.21 euro = 1.04 British pounds;
1.21 euro = 141.57 Serbian dinar;
1.21 euro = 156.09 Japanese yen.


Exchange rates and prices may not be accurate.

per litre). My husband made calculations — the consumption was 4.8 liters per 100 km. But he drives very calmly.
Automatic transmission. My husband says that there is actually dual-clutch transmission. I don't see much difference. Shift gears are not necessary, it is convenient on mountain roads. Please note that in Mercedes the gear lever is on the steering wheel, unusual. But this frees up space between the passenger and the driver. There is an additional glove box where we put our phones.
Good interior materials. Leather seats, a wooden dashboard, a lot of metal parts. It is very pleasant to drive in such a car and the mood is completely different compared to some shabby 10 years old Peugeot.
Climate control. It's just an awesome thing in a car. We once left ours in the sun. The sensor showed +60 °C. It was very hot inside. My husband turned on the air conditioner at full power and while I drank some water and put my purse on the back seat it was already cool inside. In cheap cars air conditioning usually works slow and does not help much in the heat. Especially if the car is driving slowly.
Heated seats. Very cool thing if it's cold in the mountains. We were lucky and the weather was great. But I remember very well how two years ago it was so cold in the highlands that I put on an autumn jacket.
Parktronic and rear view camera. Parktronic is a thing that squeaks loudly when there is a chance to scratch the bumper. It helps a lot when parking and when other cars are nearby.
Safety. Our car have 8 airbags. It also have 5 stars on Euro NCAP. This means that even if we have an accident, nothing bad should happen to us.
Automatic headlights. Very handy feature for tunnels. As soon as you enter the tunnel, headlights turn on immediately. So the driver is not distracted.
Free insurance and green card. Each car has its own insurance conditions. In our case,  TPL + CDW + SuperCDW + Green Card were included free of charge. Also it would be possible to write me down into the contract as the second driver for free. This way we could drive one after the other. But, unfortunately, I have no driving experience…
You have to pay extra for this in other options, and quite a lot.
Large trunk, where we put 2 suitcases easily, still there was a place left.
Power side mirrors. If turn on the alarm, the mirrors fold automatically. It looks like the car is "falling asleep".
The car already has music inside. The distributor left us a disc with good Serbian or Montenegrin music. Pleasant calm melodies, completely incomprehensible language. It helps to tune in for travel.
---
Now about the flaws. There are not many, but we have had several difficulties:
No flash drive slot. There is a USB slot in a description. I had some music with me, but couldn't find a way to listen in. Maybe wasn't looking in a right place. My husband found somewhere that this connector could be in the armrest.
Start-stop system. This is such a thing that turns off the engine as soon as the car stops. In theory it saves fuel. But it's really annoying while driving in mountains. Well, at least you can turn it off by pressing just one button. But, to be honest, we did not find out where to click right away.
Careful with the curbs! The front bumper is quite low, and the curbs in Montenegro are high. Our friend, who had such a car, advised not to drive into the curbs or do it super carefully. The suspension is very soft (for comfort) and you can tear off some kind of protection from below.
I have a request. If you liked this car and want to book it for your trip, treat it very carefully. Well, do not forget to say hello from us.
How we compared Localrent and local distributors
We paid only 60 euroEURO EXCHANGE RATE:
60 euro = 71.4 USD;
60 euro = 51.6 British pounds;
60 euro = 7020 Serbian dinar;
60 euro = 7740 Japanese yen.
Exchange rates and prices may not be accurate. per day for our car. As for mid-August — very profitable. For example, the most modest and oldest cars that we saw on billboards in Budva started from 40-50 euroEURO EXCHANGE RATE:
40 euro = 47.6 USD;
40 euro = 34.4 British pounds;
40 euro = 4680 Serbian dinar;
40 euro = 5160 Japanese yen.
Exchange rates and prices may not be accurate..
We booked a car for a part of vacation. The first 10 days my husband watched ads passing by the next rental company (there are photos of cars and prices). The car is rare, few people offer it. Once he found one similar to ours, but it was 70 euroEURO EXCHANGE RATE:
70 euro = 83.3 USD;
70 euro = 60.2 British pounds;
70 euro = 8190 Serbian dinar;
70 euro = 9030 Japanese yen.
Exchange rates and prices may not be accurate. per day. It's 10 euro EURO EXCHANGE RATE:
10 euro = 11.9 USD;
10 euro = 8.6 British pounds;
10 euro = 1170 Serbian dinar;
10 euro = 1290 Japanese yen.
Exchange rates and prices may not be accurate. pricier per day. And you even don't know whether all the insurances that we had are included in the price. The car even in the photo looked clearly older.
Next time we saw a red Mercedes B180 for 60 euroEURO EXCHANGE RATE:
60 euro = 71.4 USD;
60 euro = 51.6 British pounds;
60 euro = 7020 Serbian dinar;
60 euro = 7740 Japanese yen.
Exchange rates and prices may not be accurate. per day. This is, well, a past model. I took a picture of that ad. It is placed somewhere not very crowded. Prices are pretty average for local distributors. On another advertisement, we saw similar ones. Now I tried to find the same cars on Localrent. The article is written at the very end of August, many cars on the site have already been dismantled, so it was not always possible to find a directly identical option. But it is still possible to understand where you can rent car cheaper.
Where to go on a rented car: my route
We wanted to escape from the heat and live at least a few days in the mountains. Looking ahead, I'll say that it turned out very cool and interesting! I can recommend such a trip to everyone. The plan was something like that:
Early in the morning leave Budva and go to Žabljak. During the travel make a bunch of stops in beautiful places.
Then have a few days to explore the surroundings, mountainous Durmitor, Lake Piva and other interesting places.
On the way back, go to the Ostrog Monastery, see the Bay of Kotor, drive to Tivat and spend the night there.
Give back a rented car directly at the airport, so you haven't pay for a transfer and wouldn't look for a taxi.
According to the results of the trip, we determined that the ideal distance for one day is 200-250 km. Many people manage to drive almost the entire route in just one day, but this is not so interesting — I don't have time to enjoy the moment. If you drive the whole day, you may get a feeling that pictures just flicker in front of your eyes, but you haven't such strong emotions.
To make everything as clear as possible, I marked the key points on the map:
Payment, getting a car and other boring things
We planned to leave early in order to devote as much time as possible for travel. I recommend you to do the same, if you want to make long stops and arrive before sunset. When booking a car, I indicated that I would pick it up at the parking lot of the Alexander Hotel. It is literally across the street from our apartments, so we were already there with our suitcases.
Before that, we took a car from one of the international rental companies. And this process was quite slow: it was necessary to re-read the contract, refuse various useless services, double-check everything so nothing extra will be added to the bill.
This time it took us about 15 minutes getting the car, inspecting it and signing all the documents. And it even took so long because my husband carefully read the contract almost all this time. So in few word, this is just super-fast! We say hello to a dealer and while my husband was loading the suitcases and I was filming the car on video, the dealer already filled out the contract. We signed up, asked a couple of questions that we were interested of, adjusted the seats for ourselves and left.
I'll tell you about the nuances of payment. We didn't have a lot of cash, so after booking we asked dealer to take a payment terminal with him. If you do not warn in advance, then they may not take it. The full cost of our car rental — 300 euroEURO EXCHANGE RATE:
300 euro = 357 USD;
300 euro = 258 British pounds;
300 euro = 35100 Serbian dinar;
300 euro = 38700 Japanese yen.
Exchange rates and prices may not be accurate.. They took a deposit from us of 45 euroEURO EXCHANGE RATE:
45 euro = 53.55 USD;
45 euro = 38.7 British pounds;
45 euro = 5265 Serbian dinar;
45 euro = 5805 Japanese yen.
Exchange rates and prices may not be accurate.. Other 255 euroEURO EXCHANGE RATE:
255 euro = 303.45 USD;
255 euro = 219.3 British pounds;
255 euro = 29835 Serbian dinar;
255 euro = 32895 Japanese yen.
Exchange rates and prices may not be accurate. we paid by credit card.
Also there is such a thing as deposit. Each car has a different one. Usually the more expensive the car, the more is deposit. Ours was of 300 euroEURO EXCHANGE RATE:
300 euro = 357 USD;
300 euro = 258 British pounds;
300 euro = 35100 Serbian dinar;
300 euro = 38700 Japanese yen.
Exchange rates and prices may not be accurate.. If suddenly we did something with the car or had an accident, then they could take only these 300 euroEURO EXCHANGE RATE:
300 euro = 357 USD;
300 euro = 258 British pounds;
300 euro = 35100 Serbian dinar;
300 euro = 38700 Japanese yen.
Exchange rates and prices may not be accurate. (that's because we have SuperCDW insurance).
But this does not mean that with the slightest damage they will immediately take away whole deposit. Small scratches are generally not paid for. For a decent dent or a very noticeable scratch they will take somewhere around 50 euroEURO EXCHANGE RATE:
50 euro = 59.5 USD;
50 euro = 43 British pounds;
50 euro = 5850 Serbian dinar;
50 euro = 6450 Japanese yen.
Exchange rates and prices may not be accurate..
Some distributors know how to freeze a deposit on a card. This is when the money remains on card, but you can't spend them. Our dealer did not know how to do so, so I had to give him the amount of deposit in cash.
More about our trip: photos and interesting places
We left quite early, planned to drive only a bit, so there was no sense in a hurry at all. Stayed wherever I wanted. Well, there are a lot of pictures, so I'll choose only the most interesting ones.
The first part of our route almost completely repeats the Durmitor and Tara excursion route. The only difference is that we were in no hurry and could stay in any place we liked as long as we want.
It's comfortable. You may agree, it's nice to have breakfast at the Morača Monastery (we spent 4 euroEURO EXCHANGE RATE:
4 euro = 4.76 USD;
4 euro = 3.44 British pounds;
4 euro = 468 Serbian dinar;
4 euro = 516 Japanese yen.
Exchange rates and prices may not be accurate. for pastries) or wait till the big bus with tourists leave, so we can took nice pictures. Only a car rental will give you such freedom. Even an individual tour has a schedule, but when you driving a car, only you control the show.
Then we took unusual route. We visited Kolašin town, where a marathon was just taking place. The place is very beautiful, sometime I'll write about it separately. By the way, it's cooler  in Kolašin than on the coast.
Then we stopped in the national park Biogradska Gora. Entrance costs 3 euroEURO EXCHANGE RATE:
3 euro = 3.57 USD;
3 euro = 2.58 British pounds;
3 euro = 351 Serbian dinar;
3 euro = 387 Japanese yen.
Exchange rates and prices may not be accurate. per person, You can drive almost to the lake itself. The parking lot is large, but there are really a lot of cars. People boating, but I was a little cold and didn't want to. But I managed to change clothes. Another obvious plus of "your" car.
And on the way we often stopped in beautiful and not at all tourist places. It is a pity that the photos doesn't show those emotions of silence and beauty. The article is already big, so I won't show all our stops.
The most popular place on the route is the Đurđevića Tara Bridge. Since we drove slowly and often made stops, all tourist buses with crowds of people have long been at Black Lake. Almost no one bothered us.
There are several cafes with a beautiful view, where you can have lunch or a cup of coffee near the bridge. But since we ate very well a little earlier, we decided not to wait. Moreover, the husband promised a fantastic dinner in Žabljak. And he didn't trick me! I don't remember so tasty dinner on the coast, even in the most expensive restaurants.
We checked into the apartment in the late afternoon. It was a beautiful house made of wood and stone with a beautiful view on the mountains. Heating was working, which even in the summer is a must have feature in the mountains. As for the mountainous part of the country – good housing.
If you liked these apartments and you want to live in the same, I give you contact info. Here is a link to the hostess, you'll find a list of all her apartments. If you want to save some money, I give a discount for the first reservation.
Almost immediately we went to see the city and have dinner at the same time. It's hard to say anything special about Žabljak. A beautiful town that I will gladly visit a few more times.
I highly recommend the Durmitor Inn restaurant. You wouldn't find a very large selection of dishes there, but they cook even better than in the four-star restaurants of Budva. The portions are larger, with local berries and half the price than along the coastline.
On the second day of our trip we went to Lake Piva. We drove along a beautiful mountain road with a large number of tunnels, took a boat ride and continued the route through one of the most stunning places in Montenegro. See for yourself how it was:
By the way, I want to recommend a tasty place in Plužine. The restaurant is called Zvono. They play jazz there and have a very pleasant atmosphere. I ordered trout. They brought me two fish stuffed with cheese. The portion was huge. My husband ordered meat with some fruits. They also have good desserts and a stunning homemade fruit syrup made of blueberries.
We decided to devote the third day to Durmitor National Park (ticket costs 3 euroEURO EXCHANGE RATE:
3 euro = 3.57 USD;
3 euro = 2.58 British pounds;
3 euro = 351 Serbian dinar;
3 euro = 387 Japanese yen.
Exchange rates and prices may not be accurate.) and Black Lake. We had breakfast with amazing view. Walked through the almost primeval forest right up to the Snake Lake, wandered along countless paths and even rode a wooden boat. Price for boat 9 euroEURO EXCHANGE RATE:
9 euro = 10.71 USD;
9 euro = 7.74 British pounds;
9 euro = 1053 Serbian dinar;
9 euro = 1161 Japanese yen.
Exchange rates and prices may not be accurate. per hour, and 6 euroEURO EXCHANGE RATE:
6 euro = 7.14 USD;
6 euro = 5.16 British pounds;
6 euro = 702 Serbian dinar;
6 euro = 774 Japanese yen.
Exchange rates and prices may not be accurate. for the kayak.
The ride was slowly coming to an end and we start going to Tivat. On the way we stopped to see the Nevidio canyon and Ostrog Monastery. We had lunch in a beautiful mountain restaurant with very good meal. Then they traveled around the entire Bay of Kotor and stopped for a night in Tivat.
How we gave back a car at Tivat airport and got the deposit back?
As I said, we decided to gave back a car right at the Tivat airport. There is big parking lot, so it's convenient.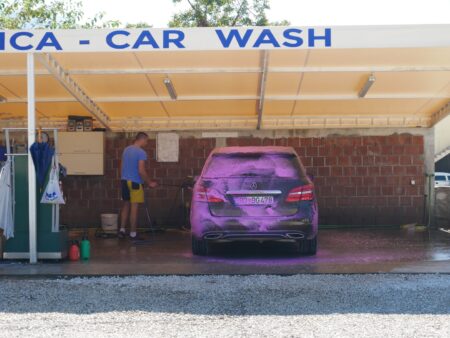 According to the rules, we had to wash the car. In fact, it works very simply: "Hand over your car as clean as you received it."
Our car during the mountain trips became very dusty, so we took care of it and looked for a decent car wash. We used to wash cars on the road nearby Budva, there is a good self-service car wash. But we did not know where to find a good car wash in Tivat.
The problem was solved very simply: my husband wrote to the dealer and he advised a decent car wash. Just for 5 euroEURO EXCHANGE RATE:
5 euro = 5.95 USD;
5 euro = 4.3 British pounds;
5 euro = 585 Serbian dinar;
5 euro = 645 Japanese yen.
Exchange rates and prices may not be accurate. guys perfectly washed our car and wiped it dry.
Self-service car washes, of course, would have been cheaper. The foam there costs 1 euroEURO EXCHANGE RATE:
1 euro = 1.19 USD;
1 euro = 0.86 British pounds;
1 euro = 117 Serbian dinar;
1 euro = 129 Japanese yen.
Exchange rates and prices may not be accurate. and water additional 1 euroEURO EXCHANGE RATE:
1 euro = 1.19 USD;
1 euro = 0.86 British pounds;
1 euro = 117 Serbian dinar;
1 euro = 129 Japanese yen.
Exchange rates and prices may not be accurate.. But we did not have anything to wipe the car. And honestly, we didn't want to do it by ourselves.
The airport parking system have coupons. It works simply: drive up to the booth, press the green button and pick up the check with the marked time. You must not lose it, the fine is big. The barrier rises and you park on any empty spot. When leaving, just show the check to the parking employee and he will say how much you need to pay. Parking at Tivat Airport is worth 80 centsEURO EXCHANGE RATE:
0.8 euro = 0.95 USD;
0.8 euro = 0.69 British pounds;
0.8 euro = 93.6 Serbian dinar;
0.8 euro = 103.2 Japanese yen.
Exchange rates and prices may not be accurate. per hour, first 15 minutes for free.
They took the car back in a very cool way. We arrived half an hour earlier, wrote about it to the distributor. He came up after 2 minutes. Super-quick look at the front and rear of a car, phrase that everything is OK. He did not look neither inside, nor checked the amount of fuel in the tank. Than he returned the entire deposit and wished a pleasant flight.
To be honest, I was even a little sorry to part with our car. I really liked it. I only hope that in the future it will come across only good drivers like our readers. I worked hard for this – I wrote an entire article. Have a nice holidays and drive carefully!