Over the 8 years of active development of the blog we have accumulated many high-quality articles about Montenegro and the peculiarities of recreation in this country. Finding and reading them all is simply not realistic. That is why we decided to collect here the most useful and necessary information about the rest in Montenegro — everything that we ourselves would like to know before our first trip.
Briefly about the authors: we are Victor and Alina, we've been regularly travelling to Montenegro for more than eight years. During this time we managed to explore almost the entire country, visited most of the popular excursions and attractions. We have tried everything on ourselves and now we help others to make their vacation unforgettable.
This guide to Montenegro has collected almost all of our experience, articles are regularly updated and improved. But if suddenly there is no information, you can always ask your question in the comments.
Holidays in Montenegro: resorts, prices, sea, beaches
First of all, I would like to highlight the indisputable advantages of Montenegro in comparison with other countries. Contrary to popular belief, people come here not only for the clean sea, beautiful beaches and low prices. The country is much deeper. To get real pleasure from your vacation, you will have to visit the mountains and ride along the bays.
Why is it worth to relax in Montenegro?
Safe and comfortable. Montenegro is a very comfortable and safe country. There is almost no crime or exotic diseases, very few deceptions, easy to understand mentality. There is no 100% safety anywhere, but all tourist regions of Montenegro are near so.
No visa required. In Montenegro, you can rest up to 90 days without a visa in a 180-day period. Convenient, because you do not need to collect any documents.
Currency is Euro. Montenegro is not a member of the European Union. But the local currency is euro. It is better to buy some at home. Please note that other currencies, except for maybe dollars, are not accepted anywhere in Montenegro, it will be difficult and unprofitable to change them.
It's inexpensive here. Compared to other European countries, Montenegro is much cheaper. For example, neighboring Croatia is about 2 times more expensive, and France or Germany may be four times pricier.
Clean sea and good beaches. The sea in Montenegro is very clean and the beaches are varied. There is sand, small pebbles, and concrete piers. A bonus to the purity of the water is a stunning view of the mountains, which can be admired while swimming.
Beautiful nature, mountains, lakes. You can see one of the most beautiful bays in Europe, ride in the real highlands or swim in one of the countless lakes.
Everything is nearby. You won't have to travel long and far, the country is very tiny. It is several times smaller than large districts in most European countries. You can travel with excursions or rent a car.
Delicious cuisine. There is no issue with food in Montenegro at all. Meat and pastries are excellent here. The dishes are unusual, but not exotic, so every stomach can digest it. There are also a lot of fish restaurants here.
Everything is made for tourists. The country in general lives on the tourists. And a lot has been done for them. There are excellent tour agencies, car rental companies, any accommodation can be rented online.
Not far to fly. Since Montenegro is located in Europe, you will not have to fly long and far. Literally 2-3 hours and you are already by the sea. In the summer there are many inexpensive charter flights with convenient schedules.
Of course, Montenegro is not for everyone. After all, people are different and they imagine a good vacation in different ways. To understand whether you will like the country, we advise you not to dwell on a short list of its advantages, but to read this article to the end.
Where is Montenegro located? Map with attractions
Montenegro is located on the Balkan Peninsula, next to Italy and Croatia. The sea here is Adriatic — very clean, but sometimes cool. The peculiarity of the country is that a huge amount of natural beauty is concentrated in a very small area: even while swimming in the sea, you can admire the most beautiful views of the mountains.
We've prepared a convenient map of Montenegro with the main attractions, resorts and beaches:
Visa to Montenegro: who needs it?
The visa issue in Montenegro is a bit confusing. There are general rules that apply throughout the year. The specific conditions depend on your citizenship, but in general you have 90 days of free stay during 180-day period. If you want to stay longer, you should apply for a visa. Of course, all requirements depend on your origin country.
What kind of vacation can Montenegro offer?
Contrary to popular stereotypes, Montenegro offers not only beach holidays. There is:
Beautiful mountains, lakes and bays that will impress lovers of natural landscapes.
Interesting medieval towns with a rich and varied history.
World famous churches and monasteries, where thousands of pilgrims come every day.
Delicious and varied cuisine that will definitely be appreciated by lovers of gastronomic tourism.
World-renowned sanatoriums, where you can take a medical and health-improving course.
Lots of options for outdoor activities and travel.
It is a pity that some people see only the beach and the sea on vacation, and then return home disappointed. In order to somehow help fix this situation, we have created this site.
Sea and beaches in Montenegro: purity and water temperature
The sea in Montenegro is very clean — its transparency reaches 60 meters. It's best to swim here in July and August. The average sea temperature during this period is 24-27 degrees, which feels like slightly cool, refreshing water.
Almost all the beaches are divided into a free part and a paid area with sun loungers. In spring, almost the entire beach is free and you can swim freely. But the closer to August, the more sun loungers appear. The free zone is shrinking and there is no longer enough space on it. It gets cramped, uncomfortable and messy.
If you are planning a vacation in July or August, we recommend that you consider the cost of renting sun loungers in advance. A set of two sun loungers and an umbrella costs 8-10 euros per day. You buy not only convenience, but also a clean beach and sea.
Is it true that the sea in Montenegro is dirty?
Sometimes, though not often, we come across negative reviews about the purity of the sea. For some reason, Budva is especially often criticized. The reasons are different and not all reviews should be trusted:
Someone was swimming at the boat dock. There is a huge and clean beach nearby, why would you do that?
Someone was unlucky and other tourists put some trash right in front of them. Sometimes this happens in the free zone.
Others swear on the same day we swam. And there was no garbage at all. Looks like trolls?
In fairness, we note that sometimes the sea is dirty. About 2-3 times a month, the sea currents can bring both cold water and some trash. Literally in 1-3 days, the water warms up, and by the evening the garbage is carried by the wind towards Italy. This happens in all countries, not only in Montenegro.
May come in handy: An article about the sea and water purity in Montenegro / An article about different beaches in Montenegro
When is the best time to go to Montenegro for vacation?
First you need to decide what do you want to get from the rest. And only then determine the approximate time:
If you spend most of your time at sea, it is better to go in July or August.
If you want to combine beach holidays with travel, you can come from June to September 15th.
If the budget is limited, and the sea is not a priority, you can come in April-May or September-October.
Self-organized travel and package tours
Alina and I tried both package tours and independent travel. Each option has its own pros and cons:
Package tours are usually a little cheaper. But they will be far from the best accommodation, the organization of recreation is very lame. We cannot remember a single package tour holiday that we would have loved. This is always a compromise between low price and the same low quality.
An independent trip usually takes a little more time for preparation and costs a little more. But we always get much more pleasure: we live in comfortable apartments, we don't carry suitcases across the city, we can rent a car and travel around the country, sleeping wherever we want.
Subjectively, in terms of impressions and the amount of positive emotions, it's better to come for 7 days on your own than for 10, but with an inexpensive package tour.
Can you not like your vacation in Montenegro?
Like any country, not everyone likes Montenegro, because it is very diverse. There are both good places and not at all suitable for recreation, but a little cheaper. May not be lucky with the weather or neighbors.
We have seen a lot of negative reviews about Montenegro. It is noticeable that many tourists themselves are to blame for the poor rest. Let's talk about the main reasons:
Poorly chosen resort and accommodation. There are popular resorts with excellent beaches and tourist infrastructure. And there are tiny villages. There is nothing there, but cheaper. If you decide to relax in such a place, you will hardly be satisfied. It will be boring and not interesting: there are no beach, excursions, restaurants and even a supermarket.
The situation is similar with accommodation. Comfortable apartments in the summer start somewhere from

40-50 euros

per day.
Wrong season. In Montenegro, it is really comfortable to rest for only three months: from about June 15 to September 15. All other options are risk and compromise. The sea can be cold, it often rains, it is cool, restaurants and cafes are already closed.
Holidays in the off-season have their advantages: the price of apartments or car rental falls, and there are fewer tourists. You can rest longer for the same money. But you also need to be prepared for the disadvantages and risks.
False expectations. Not all articles on the Internet and stories from friends are equally useful. Somewhere the information is out of date for a dozen years. As a result, many people have expectations that do not coincide with reality at all. And people get upset.
For example, you can still find information about ridiculous prices in Montenegro. So it really was somewhere in 2005-2010. Now the rest here is still inexpensive, but you can't call it "almost free" either.
Excessive savings. A comfortable stay always costs money. In any country. And Montenegro is no exception. If you save on everything and look for the cheapest options, the rest usually turns out to be of poor quality.
Sometimes you just need to overpay a few euros and go to a completely different level. For example, try renting sun loungers instead of crowding around the free part of the beach and enjoy the comfort and clear water.
Misunderstanding of the country. Montenegro is not only a beach country. The sea is good here, but without visiting sights, excursions or a trip to the mountains in a rented car, the experience will be dull and incomplete. If you are planning a purely beach vacation from morning to evening, it is better to choose some other country.
Excessive haste. You must understand that you are flying to a Mediterranean country. No one is in a hurry here, everyone lives in a relaxed state. You should not try to see everything and build a route where every day is scheduled by the minute.
Nevertheless, we want to clarify right away that the majority of tourists really like Montenegro. We ourselves fly here for the 8th year in a row. And every time we find something new and interesting.
How much does a vacation in Montenegro cost? From budget to luxury
Rest in Montenegro is still quite inexpensive, although it cannot be compared with those simply ridiculous prices that were in the country some 5-10 years ago.
The currency of Montenegro is Euro. It's better to buy it at home — it's easier and more profitable.
Approximate prices for holidays in Montenegro
We roughly calculated how much different types of rest in this country will cost:
1 The budget option will cost 700 euros for the tour and 200-300 euros later.
TOTAL: 1000 euros for 7 days rest.
2 The average holiday option will cost 1000 euros for tickets and accommodation. Spend another 500 euros later.
TOTAL: 1500 euro in a week.
3 A luxury vacation will start from 2000 euros for the flight and hotel. You need to take with you another 2000-6000 euros.
TOTAL: 4000-8000 euros for the whole rest. The spread is large, because people rest in different ways.
---
The approximate price of tours can be found, for example, at Viator. The cost of an independent vacation option will have to be calculated individually, because it very much depends on the resort and apartments.
Our articles will help you calculate the approximate cost of rest in Montenegro:
Cities and resorts of Montenegro: where to go on vacation?
A correctly chosen resort is the key to a good rest. If you settle in a good place, most likely, your vacation will turn out to be bright and unforgettable. And you will want to return to Montenegro more than once.
Why is it important to choose the right resort?
Every year we see negative reviews about Montenegro: they say the beaches are dirty, country is not interesting at all, everything is shabby. In about 80% of cases, it turns out that people decided to save money and chose cheaper housing. Yes, they saved 100-200 euros. And completely ruined their vacation. Don't do that.
We advise you to pay maximum attention to the choice of a place to stay. Cheap resorts and tours are cheap for a reason. There will be no normal beach, supermarkets, excursions and a beautiful promenade.
To make it easier to navigate, we will tell you about our favourite resorts in Montenegro, their pros and cons:
Budva: the most popular resort in the country
Of all the resorts Budva is our favourite. A large city with excellent beaches (we advise you to visit not only Slavic Beach, but also Mogren), nice architecture, a beautiful Old Town behind the fortress wall and the island of St. Nicholas right in the bay.
There are many comfortable housing, restaurants, bakeries, butcher's and fish shops in Budva. The easiest and cheapest way to get here is from the airport. In general, this is the best option in terms of price-quality ratio.
Of the minuses of Budva, I would like to highlight: there are many Russian-speaking tourists, in summer there is not enough space on the free part of the beach.
May be useful: good article about Budva, its beaches and attractions.
Becici and Rafailovici: nice place and great beaches
Becici and Rafailovici have some of the best sandy beaches. It is here that the most comfortable 4-5* hotels with a large beautiful territory are located. Resorts have long become the main center for beach holidays in Montenegro.
In fact, apart from beaches and hotels, there is nothing special here. You can walk to a pretty cape in Becici or to an old olive tree, but it's better to go through a tunnel to Budva – it's much more interesting there. So, you either have to take a car or buy excursions. Fortunately, the choice is large, and the prices are exactly the same as elsewhere.
Disadvantages of Becici and Rafailovici: prices are significantly higher than in neighboring Budva, the choice of restaurants is small, there are almost no bakeries and butcher shops. In addition to a beach holiday, there is nothing special to do.
Sveti Stephen: silence, tranquility and clear sea
It is not easy to spend a vacation on the island itself – you have to be a very wealthy person. Mostly celebrities and millionaires rest there. But, in fact, there is nothing special there. People pay primarily for privacy.
There is a small beautiful village near the island with excellent beaches and warm water for ordinary tourists. Nearby is the stunning Milocer Park, which is pleasant to walk in the midst of the summer heat. There are many stunningly beautiful places in the vicinity where you can arrange a small photo session. The island itself can be visited with a daily excursion for a 20 euro per person.
Many come here with small children. At St. Stephen's there are fewer people, it's quieter and more peaceful. The resort is also good in terms of sightseeing: the choice is huge, the prices – as elsewhere. You can easily rent a car and drive around the country on your own.
There are also disadvantages: prices are slightly higher here, there is no supermarket, shops or hospital. The entire village is located on a hillside. If you do not live on the first line, you will have to constantly go down to the sea and then up to your home.
You'll be interested in: an article about the St. Stephen island.
Herceg Novi: a beautiful city with fewer tourists
Honestly, Herceg Novi is my favourite city in Montenegro. An amazingly green, romantic and beautiful town spread over the hills by the bay. Labyrinths of narrow streets, countless observation decks and fortress towers from which amazing landscapes open up, rather low prices for food and groceries. What else do you need for a great vacation? And if we say that there are many times less tourists here…
But there are also disadvantages. There are a lesser amount of excursions from Herceg Novi, the city's beaches are not very good – you have to go, for example, to the Zhanitsa beach. Couples with small children will not be comfortable either, there are too many steep stone stairs that cannot be passed with a stroller.
You'll be interested in: detailed article about Herceg Novi with photos and panoramas.
Petrovac: a very green town, but the beaches are packed
Petrovac is the most incomprehensible resort for Alina and me. On the one hand, the town is beautiful, green and comfortable. There are many modern apartments and hotels, delicious restaurants and a wide range of excursions. Near Petrovac there are several beautiful Health paths, which are pleasant to walk along.
On the other hand, in July and August there is a disaster with the beaches. Everything is packed, even the paid zones. People sit on towels on benches and even right on the waterfront. The only way to have a comfortable rest is to rent a car and go somewhere 10-15 kilometers away almost every day.
We concluded that it is better to rest in Petrovac at the beginning and at the end of the season, while there are still few people.
Tivat: if you need to live near the airport
Tivat is one of the "youngest" resorts in the country. There are not so many tourists here yet, prices are slightly lower, and the choice of comfortable housing is very large.
There are several interesting sights in the city, and near Tivat (it is better to get there by car) you can find just excellent beaches. And it is here that the most luxurious port on the Adriatic for super-expensive yachts is located (in 2016 it was estimated at 400 million euros).
Now about the cons of Tivat: the beaches in the city are very small and usually packed with people. The water is dirtier than on the coast. There is a very bad smell from the countless piers. Constantly taking off and landing planes make it difficult to relax and rest. Porto Montenegro is beautiful, of course. But walking there is interesting only for the first 2-3 evenings. And because of the high prices, even wealthy tourists feel like strangers at this celebration of life.
We will tell about all this in a separate article about the city of Tivat.
Kotor: beautiful medieval town, but almost no beaches
Kotor is one of the oldest and most beautiful cities in Montenegro. It is even called Little Venice, because it recalls Italy somehow.
Of course, there are no channels in Kotor. But there is a huge fortress wall (one of the largest in the world) and narrow medieval streets paved with stone, which are washed with shampoo several times a day.
For our taste, it is great to relax in Kotor, walk, enjoy the landscapes of the Bay of Kotor, the most beautiful bay in Europe. We definitely advise you to come here for at least one day, or better – with an overnight stay. Or just stay here for the whole vacation.
Let's talk about the cons of Kotor: rather high prices, almost no beaches, the sea is dirtier than on the coast, hot in summer and rainy and depressive in autumn.
May be useful: detailed article about the city of Kotor and its attractions.
Sights and excursions in Montenegro
There are so many attractions in Montenegro that we have dedicated two separate articles to them:
We will only talk about the key points. We would definitely recommend visiting:
Bay of Kotor, which is considered one of the most beautiful in Europe.
Durmitor, especially its high-mountainous part with its stunning landscapes.
The cities of Kotor, Sveti Stefan, Budva, Perast and Herceg Novi. Subjectively, they are the most beautiful.
Believers will be interested in the Ostrog and Cetinje monasteries. They are famous for their relics and wonders. Both monasteries are of great importance for the entire Orthodox world.
If you have time, you can climb to the top of Mount Lovcen, see Lake Skadar, Lipa Cave, take a raft ride on the Tara River, or even go to one of the neighboring countries.
How to see the sights of Montenegro: excursions and car rental
There are tons of ways to see Montenegro. From hiking and bus travel to sightseeing and car rental. On the pages of our site, we try to tell in detail about all this so that you have a choice. For example, if you live in Budva, it is also convenient to go to Kotor by bus, and it is generally pleasant to walk to St. Stephen's. But in most cases, it is still more profitable to buy a tour or rent a car.
Excursions or car rental?
It is difficult to say for sure which is better: an excursion or a trip by car. There are pros and cons in both cases:
The excursions are already organized and thought out for you. There will be a professional guide who will tell you everything and take you along the optimal route, proven many times over. You don't have to prepare or drive all day. It's comfortable and more like a vacation.
Some excursions, for example, the Bay of Kotor, will give emotions that you simply cannot get by car.
A car trip allows you to create your own route, stay in a place you like, or even spend the night somewhere in the mountains. You will be alone and you can easily take any pictures you want. And it is also convenient to travel by car with small children, who may need stops more often than adults.
Other option is an individual excursion when you travel in a small car with a guide. You no longer need to drive, and the program and duration of stops will be more flexible. There are two minuses that come to mind: you cannot plan a route for several days with an overnight stay, and the price of an individual excursion with a good guide turns out to be much higher than the first two options.
May come in handy: article about group excursions / article about car rental / article about guided tours
TOP 5 excursions in Montenegro
Excursions, like holidays in general, are very individual things. The specific set of excursions will depend on the age and physical form of the person, his preferences, and whether children will be with him or not. Let us tell you about five of our favourite excursions, and you really choose which of them is more suitable for you.
1
First of all, we would go to the mountains. To do this, you need to buy a tour called Durmitor and Tara trip for 40 euros. There is an improved version of this tour on Thursdays and Sundays. It costs 65 euros, but there they added high-mountainous Durmitor and Piva Lake.
2If there still not enough beautiful photos, and you haven't overdose from the mountain landscapes, go to Maxi Montenegro for 35 euros (+ 3 euro ticket to the observation deck. There you can see a stunning view from Mount Lovcen and admire the most beautiful bay in Europe.
3After such a busy rest, you will want to slow down a little. Boat trips excursions are ideal for this. Here are our three favourites: Bay of Kotor (25 euros), Fish Picnic (40 euros) and Skadar Lake (40 euros). Bay of Kotor and Fish Picnic are suitable for all ages, and the excursion on Lake Skadar is very calm, it is more likely for the elderly people and couples with children.
4Do not forget about trips to neighbouring countries. You can visit Croatia (40 euros), Albania (40 euros) and Bosnia (Trebinje for 40 euros, the waterfalls cost 55 euros).
5If your rest seems boring, you can add some extreme. For example, you can go rafting (84 euros), ride a jeep in the mountains (85 euros), paragliding (80 euros) or try diving (89 euros).
---
Of course, the list of interesting excursions does not end there. For example, we did not talk about the Monastery Tour, where you can see the world's third most visited monastery, fishing, yacht rental and amusement parks. But all this information is already on the site and can be easily found.
May be interesting: prices and schedule of excursions in Montenegro / description of the main excursions with pros and cons
Individual excursions and guides
This is one of the most comfortable ways to travel around the country. The cost of an individual excursion with a good guide is 160-300 euros. Expensive, but if you are traveling with four people, it is only slightly more expensive than the group option tour the same route. But there will be more stops, no one will rush you. The excursion moves from the format "the guide gives a lecture on the history of Montenegro" into a live dialogue with the opportunity to ask questions and talk with an interesting person.
In general, if maney allows, it is better to choose an individual excursion. The only thing: there are literally several dozen really smart guides throughout Montenegro. And in the summer they are usually booked in advance. We bought excursions for ourselves on Viator and GetYourGuide.
How to rent a car and see everything by yourself?
Excursions are not the only option to comfortably see Montenegro. Here you can easily rent a car and drive on your own. If you are traveling alone or with a child, it will be even cheaper.
The roads here are of high quality, with normal markings and almost no holes. The difficulty depends on the specific route: somewhere you will pass without the slightest problems, but in some places the asphalt sections are very narrow, you have to back up to the nearest turn or pocket to miss an oncoming car.
Where can I get travel routes?
We advise you to look first at the excursion routes. They have been tested on millions of tourists and are perfectly balanced: they will definitely be interesting and informative. A good option that you can take as a basis.
Then you start modifying the route you like: leave early or later, so as not to interfere with tourist buses, add attractions to the plan that will not be shown on excursions. You can even split your trip into 2 days. This is a good idea, for example for the Tara River Canyon route, which is quite long itself. But if you spend the night in Žabljak or Pluzhino – it turns out to be cool.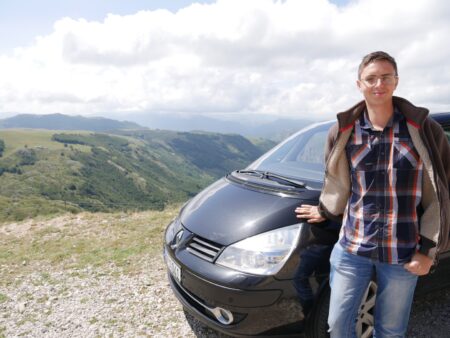 There is an easy way to rent a good car in Montenegro. We always use Myrentacar.com. It is convenient and understandable: you can immediately see how much which car costs, what kind of insurance it has and how much money is needed for a deposit. There are no hidden fees, imposed services or surcharges. The deposit can be paid in cash. And it really will be returned without any nerves. Those who took a car from international distributors will understand how important this is.
The site works with good local distributors. Due to this, prices are almost always lower than those of large world-renowned companies that usually operate in Montenegro under a franchise. This is when local distributors just buy the right to write the sign, for example Avis or Hertz.
Here I would like to quote a friend of mine: "By booking on Myrentacar, I get reliability and a decent human attitude in any situation." It sounds very pretentious and advertizing, but it's true. Checked it on myself.
Alina and I usually take cars no older than 2013 with an engine of 1.6 liters (or better a two-liter). You don't need an SUV on regular tourist routes. We drove by in an ordinary sedan. If you still do not feel like an experienced driver, it is better to take a car with small dimensions better insurance.
It is interesting: article about the nuances of car rental in Montenegro / an example of how we chose a car 
Prices in Montenegro – what to buy and where to eat
There is a separate and very detailed article about prices in Montenegro on the site. But we will still briefly remind you:
Housing: budget option costs

15-25 euros

per night, average apartments –

50 euros

, and good housing – from

70-80 euros

.
Transport: a bus ticket costs from

1 euro

for short distances to

15 euro

for a trip across the country.
Car rental: an inexpensive car on Myrentacar.com can be booked for

30 euros

. Great options (for example, such as we drove last time) cost about

60 euros

per day.
Airport transfer: costs from

20 euros

for a trip from Tivat to Budva. The further you go, the more expensive it gets.
Excursions: reliable companies start their prices from

25 euros

. The average price for a good excursion for the whole day will be

40 euros

. An individual trip with a guide can cost you

200-300 euros

.
Beaches: they are free, but in summer it is better to rent a sun lounger. Average price

8-10 euro

for a set of two sun loungers and an umbrella. But there are places for wealthy tourists, where prices starts from

100-150 euros

.
We've indicated the prices that will be in the summer. It is clear that in spring, autumn or winter, when there are no tourists, the situation is different.
Read more here: a detailed article about prices in Montenegro with examples and tips
Prices in restaurants and cafes, the cost of groceries in supermarkets
In terms of food, Montenegro is very democratic. When we flew here for the first time, we were on a tight budget. We ate mainly hamburgers at 1.5 euros and food from supermarkets. If we compare products of the same quality, prices in supermarkets in Montenegro will be cheaper or the same as in most European countries.
Now we are no longer poor students and can afford to dine normally in a restaurant (the average bill is 10-15 euros per person), sometimes we even have expensive and very tasty dinner for 20-25 euros per person.
We recommend you to try local fruits and berries: figs, peaches, blackberries. Kiwi, pomegranates and even some citrus fruits. All this is almost 100% environmentally friendly, because there is no large industry in Montenegro.
May come in handy: a detailed article on food in Montenegro with prices and our favourite places
What to bring home from Montenegro: ideas for souvenirs and gifts
But in terms of souvenirs, Montenegro was not very lucky. It have about the same souvenirs as in any other country. There are a lot of fake brands and imported goods from Turkey or China.
Let's briefly list what we usually bring ourselves or as a gift:
Food: pršut, local olive oil, wine, rakija and various imported delicacies that we cannot find at home.
Clothes and footwear: the choice is very small, but there are some high quality Italian or Serbian things.
Textiles: sometimes we buy high-quality Montenegrin towels (not to be confused with Turkish ones), scarves and other little things.
Religious souvenirs: brojanitsa, icons, charms, crosses.
From neighboring countries: Excursions to neighboring countries are very common. In Albania, you can buy inexpensive silver, cognac and tea. Ties, gold and corals are brought from Croatia, but prices in Dubrovnik are not low.
It's interesting: a selection of ideas for souvenirs from Montenegro
How to travel to Montenegro on your own?
It is best to rest in Montenegro on your own. So you can choose a convenient departure time, the best accommodation, think over an excursion program. It's not difficult at all. The site already has step-by-step instructions.
To make it even easier for you, we have compiled a short memo. It will help you not to forget anything:
1 Think about the dates. If you like a beach holiday, come in July, August and the first half of September. If it is more important to save money, you can come in spring or autumn. But there is a chance that you will not be lucky with the weather.
We recommend that you start planning your vacation as early as possible. So you can buy cheap air tickets, choose good and inexpensive apartments, book the car you need, or get a discount on excursions.
2 Select flights. Now that you already have approximate dates, you can start looking for flights. Detailed instructions are already on our site. Usually, the earlier you buy a ticket, the cheaper it will be.
3Find accommodation. You can live in a hotel, or you can rent an apartment. All hotels are on Booking.com. We often rent apartments through AirBnB that's a better option if you don't like hotels.
4Think about entertainment. There are two main ways to travel around the country: car rental and excursions. Both options are good, with their own pros and cons. We usually combine: we rent a car for a few days, and visit some new excursion for ourselves. There are many descriptions of various excursions on the site.
It is better to book entertainment in advance, while you are still at home and choose in a relaxed atmosphere. So a discount for earlier booking will be given, and there will be no problems with prepayment (SMS does not always reach from a bank to Montenegro).
5Take care of the transfer. To get to your apartment or hotel conveniently from the airport, you will have to take a taxi. As elsewhere, local taxi drivers sometimes inflate prices and deceive tourists. Therefore, it is better to book your transfer in advance.
6Don't forget your insurance. Insurance for holidays in Montenegro is not required. Neither we nor our friends have ever asked for it. But medicine is very expensive for tourists. A visit to the doctor is 100-200 euros, and the simplest operation will cost from 2000 euros. Situations when people without insurance loose up to 6000 euros happen almost every year. Therefore, it is better not to save money and still buy insurance. We hope you wouldn't use it.
7Decide on a cellular. You may need the internet while traveling. For example, to contact the owner of the apartment, explain to the driver where to wait for you, or see reviews about the restaurant.
If you plan to live in one place, most likely, roaming will be enough. On average, a small Internet package for a day in roaming costs about 2-5 euros. For this money, you can buy a local sim card. Alina and I use DrimSim, but this is an option for those who travel frequently.
8Check about registration. Every tourist arriving on vacation in Montenegro must register with the travel agency. If you live in a hotel or a good apartment, the staff will register you. But if you chose cheaper housing, it is better to clarify this. You may have to register yourself.
---
The first seven points of the instruction are best to do while you are still at home. The eighth can be solved already on the spot.
If you are flying for a long time, it is better to split your vacation into several parts and live in different places: sunbathe on the beach, wander around medieval towns, enjoy highlanders' cuisine in a restaurant with a stunning view.
May be useful: How to organize your vacation in Montenegro?
Or maybe it's better to fly with a package trip?
Vacation with a tourist package has its advantages: it is very easy to buy a tour, and the price will be slightly lower. But in most cases, you have to sacrifice quality:
In the cheapest tours, accommodation is usually planned in very tiny rooms with crumbling plumbing. If you are planning a vacation on your own, you simply will not find such a bad place.
In the tours of the middle price segment, there is a very wide range of quality. This is essentially a lottery. We often see reviews when people paid quite a lot of money, and the accommodation was far from ideal. But it also happens the other way around.
If you want to live in a good hotel or apartment, the tour will no longer be cheaper. And the choice is modest.
We're not saying that tours are always bad. Sometimes there are just great options. We just recommend comparing both vacation options, calculating the price and choosing the one that is more profitable for you.
May be useful: how to view the prices of tours without leaving home?
Reviews and impressions of tourists about the rest in Montenegro
Several thousand people use our site every day. Most of them then successfully spend some time in Montenegro, and some even send us great reviews.
Usually people are especially happy with the clear sea, stunning views, interesting sights and inexpensive excursions. Many people rent a car and, after a short beach holiday, go to explore the country. It can be a short trip for 3-4 days or a full trip for several weeks.
Someone notes the amazingly delicious cuisine, others like the local hospitality. There is only one conclusion – Montenegro is very different and each person sees it a little differently. And what will your Montenegro be like?
---
We sincerely wish you a great vacation in Montenegro and find all the information you need on our website. If you suddenly have any questions, feel free to ask them in the comments.

Victor and Alina Pashynskyi,
creators and authors of the guide to Montenegro