As experienced travelers, that have been to Montenegro four times, we want to share our experience and knowledge with those tourists who are going to this country for the first time.
We've reduced all information as much as possible and decided to give it to you in a form of short tips and recommendations.
Tips and tricks for those who travel to Montenegro for the first time
The list of tips will be constantly updated (just ask your questions in the comments).
So far, it is relevant for year 2020.
General Vacation Tips in Montenegro
Here we've gathered the most general tips and tricks that are difficult to attribute to any particular group.
Don't read the reviews
On the one hand, reviews are a source of the most reliable information. The problem is that most reviews are very outdated and cannot be trusted. Montenegro in 2021 is not at all the same as it was in 2005, when there were few tourists in Herceg Novi and the beach of Zhanitsa was almost empty, or even in 2010, when the infrastructure was just beginning to develop. Nowadays you will find a lot of tourists here as well as hotels, restaurants and little boats for rent.
There are also quite a lot of fake and inaccurate reviews. For example, 1-2 times during the whole summer the sea currents  brings garbage to the coast. About a week after that, the water is somehow dirty. The rest of the time, the water is clean and transparent. But you may find a lot of reviews that indicate dirty sea water. It's not the case here, if fact some beaches here have international awards, for example Becici beach have "the most beautiful beach of Europe" award, and Mogren beach received the blue flag for the clearness of the sea.
If you are going on vacation to Montenegro, don't forget to leave a comment on our website.
May be interesting: we have detailed reviews left by readers. You can also leave your own review by contacting us through comments or through the contact page.
Do not count on elite service for little money
No matter what tour operator promise you, Montenegro is not the best country for spending time at a pool and cheap food. This is not Turkey, Egypt or even Bulgaria. It's a whole other country with unique time spending.
If you choose the budget option (up to 1 200 euros), you will most likely be staying on a villa in one of the tourist towns (room service once a week, there are no roomy apartments, but they are quite comfy), eat food in inexpensive restaurants or buy groceries in supermarket.
But it also unfair to say that there is no good service. Somewhere around 2017, we started to book nice apartments on AirBnB and hotels on Booking.com from 8EURO EXCHANGE RATE:
80 euro = 95.2 USD;
80 euro = 68.8 British pounds;
80 euro = 9360 Serbian dinar;
80 euro = 10320 Japanese yen.
Exchange rates and prices may not be accurate. to 200 euroEURO EXCHANGE RATE:
200 euro = 238 USD;
200 euro = 172 British pounds;
200 euro = 23400 Serbian dinar;
200 euro = 25800 Japanese yen.
Exchange rates and prices may not be accurate. per day. And it turned out that the service there is no worse than in average 5* hotels. Good furniture, new plumbing, nice owners, that are ready to help with any problem.
The situation is somewhat similar with excursions. If you buy them in a decent agency, then the quality will be much higher than in many other countries. This comparison is based on our own experience. If you aren't satisfied with group tours, you can book private ones. They are even better and more informative.
Montenegro is no longer a cheap country
Some sites gives you an old information about how unrealistically cheap it is to stay in Montenegro.
Unfortunately, these articles are outdated. Over the past few years prices in Montenegro have risen up, more or less relevant prices you can see in this article: Prices in Montenegro.
Yes, it is cheaper to stay in Montenegro than in Europe. In Dubrovnik, for example, prices are 2-4 times higher. But the good old days, when everything here was cheaper than at home are gone.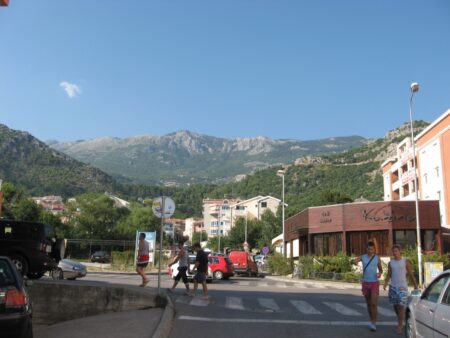 Small problems with the language
We have already written about the local language, even published a small dictionary there. We'll just remind you that about a third of the signs in the country are written in Cyrillic letters, so it may be frustrating at first. Older generation almost doesn't understand English, so if you need some help, it's better to ask younger people.
Also there are a lot of services provided only in Russian. So before you buy some group tour or individual excursion, it's better to check twice, that it will be provided in language, that you understand.
Almost all apartment owners, waiters in restaurants and shop assistants speak English at least a little. So there are no problems with the language.
What should you take with you to Montenegro?
In general — everything's the same as in any other country. But it is worth noticing that most of the excursions include visits to churches and monasteries. Although Montenegrins are quite respectful for tourists, it's better to take decent clothes with you for such occasions.
If you'll go on an excursion by the canyons of the Tara and Moraca rivers, then take a warm jacket, it is pretty cool in Durmitor park.
Some of the beaches in Montenegro are made of concrete, and sun loungers cost from 10 to 20 euroEURO EXCHANGE RATE:
10 euro = 11.9 USD;
10 euro = 8.6 British pounds;
10 euro = 1170 Serbian dinar;
10 euro = 1290 Japanese yen.
Exchange rates and prices may not be accurate. for a set of 2 sun loungers and an umbrella. I would advise you to take a sun lounger, it is much more comfortable. But if you are looking for a budget vacation, it may be worth to bring an umbrella, soft towels or bedspreads by yourself.
Food in Montenegro is relatively cheap. It may not hurt to take some of your favourite food with you from home, but it's not necessary, even if you want to save some money.
May be useful: what to take with you to Montenegro?
 How much money should I take?
It  depends directly on your appetite. I recommend you to read the article: How much money to take with you to Montenegro?
The main difference here is that hotels in general have only breakfast included. If you stay on a villa, you may not get even that. So, even if prices may look cheap, you better be ready to pay some for lunch and dinner.
If you do not take into account the cost of tickets and accommodation, then the budget option will cost you around 30-35 euroEURO EXCHANGE RATE:
30 euro = 35.7 USD;
30 euro = 25.8 British pounds;
30 euro = 3510 Serbian dinar;
30 euro = 3870 Japanese yen.
Exchange rates and prices may not be accurate. per day, comfortable one about 50-70 euroEURO EXCHANGE RATE:
50 euro = 59.5 USD;
50 euro = 43 British pounds;
50 euro = 5850 Serbian dinar;
50 euro = 6450 Japanese yen.
Exchange rates and prices may not be accurate., and the elite stay from 250 euroEURO EXCHANGE RATE:
250 euro = 297.5 USD;
250 euro = 215 British pounds;
250 euro = 29250 Serbian dinar;
250 euro = 32250 Japanese yen.
Exchange rates and prices may not be accurate. per day.
What is the currency in Montenegro
Some tourists unknowingly come to Montenegro with their local currency. In general, it wouldn't accepted anywhere, neither in currency exchange nor in bank. Some guides offer an exchange, but it's better to do it at home.
Montenegro's currency is euro. Ideally, you should take some with you. You can also take dollars and change them on the spot, but be ready to lose some percentage during exchange.
About registration in travel agency
If you independently organize vacation and plan to live in an apartment, you will need to go through a small bureaucratic quest with registration and payment of the tourist tax. If you live in a hotel, in 99% of cases they will do it for you, no need to worry.
To register, you need to ask the owner of the apartment for his name and address (ask to write it down on a piece of paper), and then take your passport with you and go to the nearest travel agency. There you have to pay about 1.5 euroEURO EXCHANGE RATE:
1.5 euro = 1.79 USD;
1.5 euro = 1.29 British pounds;
1.5 euro = 175.5 Serbian dinar;
1.5 euro = 193.5 Japanese yen.
Exchange rates and prices may not be accurate. per day and get a receipt. This process usually takes about 30-50 minutes.
If you do not register, then on the way back at the airport you can be fined from 60 to 240 euroEURO EXCHANGE RATE:
100 euro = 119 USD;
100 euro = 86 British pounds;
100 euro = 11700 Serbian dinar;
100 euro = 12900 Japanese yen.
Exchange rates and prices may not be accurate.. The excuse that you didn't know about registration doesn't work. If there is a scandal, they may not let you to board the plane at all and you'll have to buy a new ticket.
Additional information: detailed article about registration in Montenegro
What can be exported from Montenegro?
Strict flight rules and maximum baggage weight limitations is compensated by their non-compliance. For example, you can almost always take out much more wine than it's allowed.
Montenegrins prefer to "not notice" a small overload (our neighbor, for example, stuffed 2 times more things than the limit is, but it's not a fact that you will be so lucky too). Please check your airline's website for weight restrictions.
But don't forget that umbrellas, water bottles and much more must be packed in your luggage. You wouldn't be allowed to take them with you, you'll be forced to throw them out.
Walk as much as possible, ask about prices, explore the surroundings
Prices in Montenegro are highly dependent on the place you're buying at. For example, groceries in a shop across the street can cost 2 times cheaper than in the market. The situation is exactly the same with the prices for sun loungers: on the Mogren beach they cost 20 eurosEURO EXCHANGE RATE:
20 euro = 23.8 USD;
20 euro = 17.2 British pounds;
20 euro = 2340 Serbian dinar;
20 euro = 2580 Japanese yen.
Exchange rates and prices may not be accurate., on Slavic beach — only 10 euroEURO EXCHANGE RATE:
10 euro = 11.9 USD;
10 euro = 8.6 British pounds;
10 euro = 1170 Serbian dinar;
10 euro = 1290 Japanese yen.
Exchange rates and prices may not be accurate..
Do not trust too much what they will tell you at the villa or in the hotel, check the information yourself, so you wouldn't be misled.
Sun lounger is yours until you left
On most Montenegro beaches sun loungers are not rented hourly, they are yours until you leave. If you're going to leave for a snack, leave a towel on the sun lounger (hardly anyone will take it, in Montenegro there is a low crime level) or warn the person that you paid for the sun lounger that you'll be back.
Chat with the group leader
Depending on travel agency, on the day after your arrival may come the group leader (you will be warned). You can chat with this person. Sometimes they give interesting recommendations: where to go, where you will find better beaches, what are the best places to see.
By the way, excursions that he propose are quite good. Much better than ones you can buy at the beach and along the promenade (I don't advise anyone to buy there at all) and about on par with the site Viator.
But, of course, there are also disadvantages. Villa tours are sometimes more expensive. There are also no discounts for the purchase of several excursions, that you can get on the site. The guide himself usually was not on these excursions, he cannot really tell anything about them. And you have to choose right away. I book for myself and my friends online. Of course, you cannot rely on these excursions. As we said earlier, their availability depends on travel agency. In most cases they do not offer excursions at all.
Explore your city
What's the point of going somewhere far away on an excursion, if you haven't even seen your resort properly. In Budva, for example, you should definitely take a look at the Old Town, Mogren beaches and a piers, where expensive yachts are docked.
If you wish, you can climb onto the fortress wall and wander along it. The ticket costs 2.5 euroEURO EXCHANGE RATE:
2.5 euro = 2.98 USD;
2.5 euro = 2.15 British pounds;
2.5 euro = 292.5 Serbian dinar;
2.5 euro = 322.5 Japanese yen.
Exchange rates and prices may not be accurate., but there are very beautiful views. Alternatively, for 3-4 euroEURO EXCHANGE RATE:
3 euro = 3.57 USD;
3 euro = 2.58 British pounds;
3 euro = 351 Serbian dinar;
3 euro = 387 Japanese yen.
Exchange rates and prices may not be accurate. you can go to St. Nicholas Island (Hawaii) by boat.
Also in Budva you can find many curious shops that are selling really interesting things.
We really met a lot of tourists who, apart from the beach in their city, didn't see anything. Don't do that…
And the sea in Montenegro, by the way, is very different in different places. Both in terms of water temperature and transparency. Take a walk, make some impressions.
Don't rent a car if you have no driving experience
The roads in Montenegro are quite difficult, no matter of very high quality. It will be a little difficult for an unprepared person to drive on mountain roads. If you don't have at least a couple of years of driving experience, it's not worth it.
Truth be told, car rental in Montenegro is the cheapest and most comfortable way to see the country. Especially if you are traveling alone or with children. A decent car can be priced from 25 euroEURO EXCHANGE RATE:
25 euro = 29.75 USD;
25 euro = 21.5 British pounds;
25 euro = 2925 Serbian dinar;
25 euro = 3225 Japanese yen.
Exchange rates and prices may not be accurate. per day. Good options during the peak of a season are usually somewhere around 40 euroEURO EXCHANGE RATE:
40 euro = 47.6 USD;
40 euro = 34.4 British pounds;
40 euro = 4680 Serbian dinar;
40 euro = 5160 Japanese yen.
Exchange rates and prices may not be accurate. per day. You need to book in advance, the sooner the better.
If you still want to rent a car, take a look at the models with small dimensions and a powerful engine.
Self-guided tourism and travel services
In this section we'll describe all the ways we know to save money. I would like to note that in most cases it's not very profitable to negotiate something on a place. We know of cases when people had to pay 100 euroEURO EXCHANGE RATE:
100 euro = 119 USD;
100 euro = 86 British pounds;
100 euro = 11700 Serbian dinar;
100 euro = 12900 Japanese yen.
Exchange rates and prices may not be accurate. for a transfer from Tivat to Budva. By ordering it via the Internet, you can easily get there for 25 eurosEURO EXCHANGE RATE:
25 euro = 29.75 USD;
25 euro = 21.5 British pounds;
25 euro = 2925 Serbian dinar;
25 euro = 3225 Japanese yen.
Exchange rates and prices may not be accurate..
Going to Montenegro on your own is more difficult and more expensive than via a travel agency
The statement is true for 95% of tourists. If you just buy an air ticket, book a hotel and purchase insurance, it will already be more expensive than a package tour.
But you also need to take care of the transfer, buy excursions, take into account many other nuances.
But on the other hand, traveling on your own is much more interesting, you feel completely independent.
Independent vacation in Montenegro is better
Montenegro has its own specifics. There are good hotels in the country, but most of them are expensive. This is the 4-5* hotels segment.
Villas are like 2-3* hotels, which are the most popular in Montenegro. Local residents are building a large house with 3-4 floors and several dozen rooms, which they are rented out later.
The problem is that travel agents and websites doesn't show exactly your room, what it will look like. You'll see beautiful photos of the best apartments in the villa, and then you may get a tiny room where apart from two beds and a wardrobe nothing really in it. Plumbing is also usually not in the best condition.
Same goes with the transfer. If you buy a tour, there will be a big bus that will take you to the city and make three stops in it. And then you'll have to carry your suitcase to your villa under direct sunlight. Sometimes the distance is quite far.
I've already written about the excursions. Some tour operators (but not all of them) sell decent excursions, but in some cases guides weren't there. They will convince you that the excursion is very, very good, but they will not be able to answer the simplest questions.
Such a guide will not be able to choose an excursion specifically for you. It is much better to do this at home, in a suitable environment.
How we organize our holidays?
I have accumulated a small list of sites that I use myself:
I select tickets on Aviasales. You can often find a flight for almost the same money as the one with a tour, but with a convenient departure time.
If I want to live in a hotel, I choose it on Booking.com, and then check I the price on Hotellook.com. 
In recent years, I more often choose apartments instead of hotel. I use AirBnB.
Then I buy insurance. In Montenegro, medicine is expensive. It's very dangerous to go without insurance.
I get transfer on KiwiTaxi. I choose depending on the number of people who will go with me.
I buy excursions on Viator (group tours or individual trips) or GetYourGuide (only individual).
Yes, such a vacation is more expensive than the cheapest tour. But in return I get a comfortable departure time and good accommodation that will meet exactly my needs.
You won't have to wait for a bus and then drag your suitcases up the stairs across half the city. Someone will meet you at the airport and take you in a comfortable car.
Excursions will be cheaper (discounts for early booking and for the purchase of several excursions), plus you will be sure of their quality.
Where to find the cheapest flights
We usually use Aviasales. This is a metasearch engine that automatically checks the offers of all existing airlines and finds the lowest prices.
Where can I find the cheapest hotels in Montenegro?
We recommend you to use the service Hotellook. It also checks all popular hotel booking sites and finds the lowest prices.
You may read a little more in the article about renting villas and hotels in Montenegro.
What if I want to rent an apartment in Montenegro?
In this case, it's better not to contact various unverified sites, but immediately use AirBnB. Good reason to try it!
Renting an apartment or a room in Montenegro is cheaper than a hotel
What about excursions? Where to buy them?
I buy excursions on Viator. They have a good quality, the prices are decent.
You may be interested: an article with prices and schedules of the main excursions.
You can also take individual car tours. This option is convenient, but usually more expensive.
I want to rent a car. Which site would you recommend?
If you have no driving experience, think twice. The roads in Montenegro are well-made but rather difficult for beginners. You can rent a car both on the spot (usually it comes out a little more expensive and with some problems) or via the Internet.
We recommend you to use Localrent. Verified service by us personally with clear conditions: I chose a car, made an advance payment of 15%, the car will not be given to anyone else. When arrive — go to the office at convenient time, pay the rest and pick up the car. Then I drive wherever I want, return the car in time and take the deposit back.
There is also Economybookings, but you'll need to carefully read all the conditions. Especially those that are in small print and are hidden in the depths of the site. However, the conditions for different machines can vary.
You can ask to drive the car directly to the airport and save on the transfer.
A lot of useful information in our article about car rental in Montenegro.
How can I get from the Tivat airport to my resort if we arrive on our own?
We recommend you to read: how to get from Tivat airport to your resort? It may also be useful: instructions for getting a transfer from Tivat.
Shopping and souvenirs in Montenegro
In this section, literally a few words about shopping in Montenegro. If you are wondering what exactly you can bring from here, read the article about souvenirs and shopping in Montenegro.
Don't count on good shopping in Montenegro
80% of local souvenirs are Chinese and Turkish crafts. The only exceptions are Italian brands, but you have to go to Bar or Podgorica to get them. There are many fakes in Budva and Kotor.
At the same time, I can't say that in the Bar, for example, the choice of clothing brand items is better than in any major city. And the prices are not always favorable. We don't spend time shopping in Montenegro.
You'll need to go to Bar and Podgorica for good products
Podgorica is the capital of the country. It's not located on the coast, so there are only few tourists there. Bar is the only major port in Montenegro. There is at least some choice in terms of shopping in these cities.
For example, you can buy Italian things there — clothes, shoes, jewelry and cosmetics.
Do you like massive silver jewelry? Go to Albania
you can buy silver jewerly in Albania much cheaper. Really cheaper than at home. Approximately 1.5-2 times.
But there are many massive jewerly crafts that not everyone will like. And there will be little time for shopping. On a bright side at least in most jewelry stores they accepted money in euros.
Alina and I bought jewelry in Albania so that an interesting story was connected with it. After all, it will no longer be just a chain or bracelet, but a souvenir from a distant country.
Take a closer look at goods from Serbia
There are good textile factories in Serbia that produce high-quality towels, robes, clothes. All this is imported to Montenegro. Such shops can be found, for example, in Budva.
Things that we bought are still looks very good, we can safely recommend you to buy something made in Serbia.
Food and restaurants
We've already prepared a lot of articles about food in Montenegro:
An article-advice that will tell you what to take: a ticket with included meals or without.
Since tourists on a budget are more interested in food prices, we write most of the tips for them.
It's more expensive on the market
Oddly enough, prices in the Montenegro markets are noticeably higher than in stores. This is because the markets have two prices: for tourists that is expensive one, and for locals that is cheaper. In stores there is a fixed price.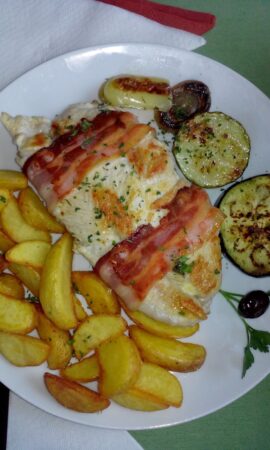 Mega Market — expensive shops
Yes, the choice in these stores is the best, they are located in places convenient for tourists, but the prices there are noticeably higher. We've already written about the popular supermarkets in Montenegro and their pricing policy.
It's not always more expensive on the beach, but quality is often worse
Paradoxically, food on the Slavic beach in Budva is slightly cheaper than in the city. But at the same time, the quality of food is slightly worse. There is certainly less meat in hamburgers.
When it comes to restaurants, prices on the promenade and near the beaches are usually slightly higher than in the city. But you can dine with a beautiful view.
You can take food with you from home
Every year Montenegro is getting more and more expensive. Due to the crisis, prices here have become quite high for many tourists.
If you don't have a lot of money, you can take something from home and spend the saved money on excursions or souvenirs.
Visit as many excursions as possible
Most excursions include lunch, and some even include breakfast. They can be either immediately included in the price, or you have to pay extra for them.
The benefit is that you will not eat in a tourist town, but in some mountain village, where prices are noticeably lower, portions are larger, and food is tastier.
Excursions and experiences
Almost half of our site is devoted to excursions and resorts in one way or another. Here are some of the most popular tips.
Wholesale tours are cheaper
When we were in Montenegro for the last time, we visited 4 excursions. Received a 5% discount. Early booking also has a discount. It's 10%. Not a lot of money, but worth considering.
The meals are included in the excursions
Usually during the excursions you can have a good meal. In most cases breakfast and / or lunch are already included in the price.
For example, you may have a good food on excursions: Fish picnic, Skadar Lake and Rafting on the Tara River.
If your vacation budget is extremely limited, but you want to see something and not constantly have a cheap fast food, excursions can be an excellent option.
Sit on the right during the excursion through the canyons of the Tara and Moraca rivers
If you sit on the right during the excursion through the canyons of Montenegro, you can see 2-3 times more.
The fact is that on most of the route there will be beautiful mountains and sights on the right, and on the left you can only admire a piece of rock.
On an excursion to Bay of Kotor it's better to sit on the left
If you've chosen the morning excursion along the Bay of Kotor, sit on the left, if the evening one — on the right. This way you'll see a little more.
By the way, somewhere since 2017, instead of boats, this excursion is conducted on a large and spacious ship. So excursion is much better this way.
It's cold in Durmitor park and it's constant raining
Durmitor Park is located high in the mountains. Even in summer there is usually +15 and it often rains. Be sure to bring a windbreaker and an umbrella.
If you go on a Grand Canyon tour, it can get cold even with your windbreaker. Better to take a warm jacket.
Step off the asphalt road in Durmitor and you'll see much more
Most tourists in Durmitor go to the lake and immediately return. But if you get off this path and walk along the tourist paths, you can see meadows with strawberries, pretty bridges and a wild forest.
See the Durmitor photos in our article.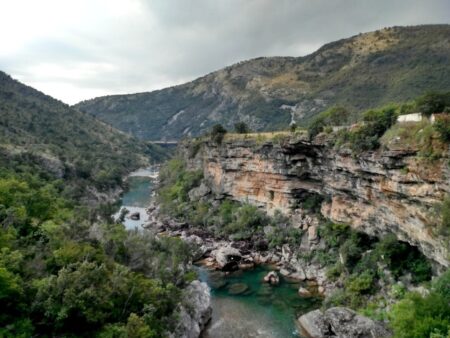 The excursion to the canyons is quite difficult, but interesting
Despite the fact that the roads in Montenegro are decent, many tourists are feeling quite bad — it's not easy to drive 14 hours along mountain serpentines…
Alternatively, the Grand Canyons Tour is available. It is carried out only by minibus.
Despite the fact that the route is even longer there, the excursion is easier, and you will see more.
I consider the Grand Canyons and the Bay of Kotor as my favourite excursions in Montenegro.
At the first stop of the excursion through the canyons, you can see a beautiful bridge
Usually tourists drink their morning coffee or go to the toilet there. There is a toilet in the Moraca monastery (next stop), and instead of coffee it's better to admire this landscape of the Moraca River.
Try to sit on the bow of the boat
If you go to the Blue Grotto while traveling by the Bay of Kotor, you'll need to jump over to the boat. If you hurry and sit on the bow, you can have an unforgettable experience.
For some reason the guides recommend swimming from a boat opposite the Zhanitsa beach, but for me and Alina the trip to the Blue Cave turned out to be an unforgettable experience.
Take some money with you if you go on a Monastery tour
On the Monastery tour you will have to pay extra for a minibus to the Ostrog monastery and lunch. Don't forget your money.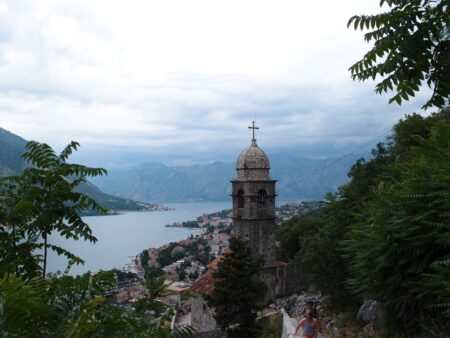 A short excursion is no worse than a long one
An excursion around the Bay of Kotor takes only half a day, but in terms of impressions it's as good as others. You will see:
Blue Cave and Zhanitsa Beach, which used to belong to the President of Yugoslavia.
A church on a man-made island with a small but interesting museum, silver plaques, a beautiful founding legend and an altar made from expensive marble;
The city of millionaires, where even the ruins are worth several million;
A typical Italian medieval city and the second largest (after the Great China) fortress wall in the world.
The bay itself is very beautiful and picturesque, it is considered the most beautiful bay in Europe and occupies this place by right.
We're sure that other inexpensive excursions in Montenegro will not leave you indifferent.
If you have a large company — an individual excursion is a better option
If you have a company of 4-5 people, it is much more profitable to purchase an individual excursion.
By splitting its cost onto all, you will receive almost the same price as a group excursion on a large bus. But at the same time, you will see the country in a comfortable car and with a personal guide.
The difference between group and individual excursions is the number of stops and the ability to independently choose their duration. Guides on individual excursions will be able to pay more attention to you, adapt to your preferences and tell something that is really interesting and exciting for you.
Well, lunches on individual excursions are usually tastier than on group ones.