We noticed that our blog is often found by people who just want to find out about prices in Montenegro and figure out how much to take with them. Unfortunately, on many sites the information is no longer relevant (indicated prices are 5-6 years old) and does not correspond at all to the realities of 2020. Some tips are so outdated that now they are more harmful.
We've had many holidays in Montenegro. During the student years, trips were quite budget: we bought the cheapest tour, even took some food with us. Now we usually live in comfortable apartments and can easily afford to rent a car or buy a good tour. We tried different options and chose the best for us, so now we can help others to organise ideal vacation.
Can be useful: detailed article about prices in Montenegro
How much money you need to take with you to Montenegro?
All people are different, the usual level of comfort and spending will be different for them. Therefore, at first we will approximately tell the amount of money you'll need, and then we will write down in detail what and how much you may spend.
How much money should you take on vacation to Montenegro?
There is a very simple way to estimate the amount you'll spend. You need to take half of the cost that you already spent for air tickets, transfer and accommodation.
It means, if the tour cost 1.500 euro for a comfortable and interesting vacation, it is better to take a minimum of 1,500 euro with you. If you take more, that's not bad either.
If you have booked excursions or car rental in advance, you may deduct this money from the total amount.
Let's roughly estimate the amount of money you'll need:
Budget holidays will cost from

20 euro

per day per person. It's roughly from

150 euro

per week. This is the very minimum, when your holidays can be considered as vacation. It's better to take

200-300 euro

per person per week.
An average vacation will cost from

50 euro

per day per person. It's roughly from

350 euro

per week. With such amount of money you can go to restaurants and see some parts of the country.
Comfortable holidays will cost from

70 euro

per day per person. It's roughly from

500-1000 euro

per week. With such a budget you can eat in good restaurants, always take lounger on a beach, take some excursions or rent a car.
All amounts above are per person. If you fly on vacation together, do not forget to multiply them by two. And if you go with a child, you'll need to multiply them by three.
---
Of course, you can spend absolutely any amount of money. So it would be wise to take exactly as much money with you as you are willing to pay for your vacation. Then you'll just bring the rest home.
We've never live large while travelling around Montenegro, when it's easy to spent 500 euro per day. But even tourists with such good opportunities will definitely find something to do here.
In what currency should I take money to Montenegro?
They are using Euros in Montenegro. It is more profitable to take euros with you, so you wouldn't pay for the conversion. But if you keep your savings in dollars, you can change them without any problems at any bank.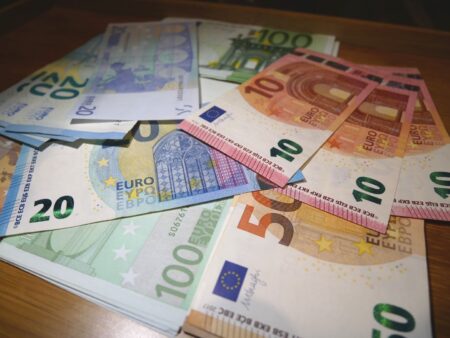 We do not recommend taking other currencies. They are not accepted almost anywhere, and it's hard to find exchanger either. If you come with national currency, there are only two options and both are questionable:
Ask your guide to change some money. If you're buying private car tour and your guide will be from your country, you can ask him to change some money. The exchange rate will be unprofitable, but you at least will have something.
Find some compatriots. There are a lot of travelers here. Someone had relatives at home, someone just works in the summer and then returns to their homeland. You can buy euros from such people, but the exchange rate is usually worse than at your bank.
You can search for compatriots through social networks.
You can easily pay via card in most stores. Also, you can open euro credit card and replenish it through online banking.
But even if you didn't open such a card, you may use your regular one. In this case you will have some conversion loss, so it's better to consult with your bank beforehand.
With almost any card you can withdraw money from ATMs. But you can't count on a large amount of money: banks often charge up to 10% for withdrawal. You can withdraw only 300 euro in most ATMs.
You can read a little more about the money and stores in Montenegro in our article about the local currency.
Is it safe in Montenegro? Can I take a lot of cash with me?
Montenegro is one of the safest countries we visited. Here you can safely walk at night, many locals do not lock apartments or cars. The situation is slightly worse in tourist places: some shady people from neighbouring countries may come. But you can't run away from them in any country, so just be careful in crowded places.
We often fly to Montenegro with cash. We switched to cashless payments only few years back, so now we prefer tp pay with credit card or smartphone. Not because we are afraid of something. It's just more convenient: you don't have to count the change in supermarkets or carry a heavy wallet with you.
Neither we nor our friends have never been robbed in Montenegro. This is a very safe country. If you follow basic precautions (do not leave a wallet full of cash on a lounge or a table in a restaurant), everything should be fine.
On What should I spend money in Montenegro?
Montenegro has a very good sea, but we wouldn't recommend to spend the whole vacation on the beach.
Personally, I have the best memories of our journey to the mountains (no matter with a rented car or with an excursion), riding a boat to the Bay of Kotor and trying the delicious local dishes. And for all this, money is needed.
About price accuracy
All the prices listed below are relevant specifically for the tourist season: from about the second half of June to early September. If you go here off the season, it will be significantly cheaper. But it can be rainy and cold during that time.
Necessary expenses: transfers, communication, lounges.
If you travel with a tour package, a tour operator will solve most of the organizational problems. You can only rent lounges on the beach or buy a sim card. But if you want to organize vacation yourself, you will have to take care of other things as well:
1 Insurance. Despite the fact that there are no exotic diseases in Montenegro, we would not recommend flying here without insurance. A simple visit to a doctor can easily cost100-150 euro. Simple operation may easily cost you up to 2000 euro.
2 Communication. To contact the owner of the apartment, find a transfer or a tour guide, read reviews about the restaurant you will need internet. You can buy a local sim card even at the airport. It costs around 5-15 euro.
Alina and I usually use DrimSim, but this is not an option for everyone. If you don't travel a lot and have no plans to use mobile data frequently, you may use your "home" sim card. Just be aware of such thing as roaming.
3 Transfer. You still need to get from the airport somehow. There is no normal public transport, and taxi drivers often greatly raise the price. That's why we always book a transfer in advance. It's convenient: someone will meet you at the exit of the airport and immediately take to your apartment.
For example, getting from Tivat to Budva starts from 19 euro per cheapest car.
4 Almost all the beaches here are divided: you can find here free zone as well as paid one. Everyone has enough space on the free part of the beach in spring or autumn. People mostly sunbathe during this time of the year (it's cold to swim) on their towels. But during the summer, especially in July and August, it gets very crowded, so during this period it is better to rent lounges in the paid area.
The following system works on the beaches of Montenegro: you rent two loungers and one umbrella for the whole day. Price depends on the beach and a distance to the water. Average price — 8-12 euro. Entrance to VIP beach can easily go up to 100-150 euro.
The amount of expenses for each person will be different. We calculated the average amount for the week:
Insurance for two costs

10 euro

.
Sim card for one tourist costs

10 euro

.
Transfer from the airport and back costs

46 euro

.
Lounges rental for 4 days costs

40 euro

.
TOTAL:

106 euro

per week.
How much money should I take for excursions and travel?
You can travel around Montenegro with a personal guide, on a rented car or on buses. Also there are few group tours here. Each option has its pros and cons. You shouldn't consider only one way to travel. For example: it's more convenient to take a bus to a neighboring city, a longer route is more profitable to travel by car, and excursions will allow you to relax and learn more about the country and its features.
In fact, no matter how you travel, you will spend about 150-200 euro per week.
1The easiest way to see the country is to book an excursion. There are two options: with a guide on the car and group tour (on a bus with a group of 20-50 people).
Pros: interesting program, professional guide, you can relax and enjoy the journey.
Cons: you will have a group with you, limited time for stops and photo-shoot, you need to book it in advance.
---
2 A great alternative to the tour would be car rental. This way you will not be limited by a typical program and will be able to plan your original route. For example, you can spend the night somewhere in the mountains. Here is an article about our personal trip.
Pros: cheaper, if you're going with a family or friends, you can come up with an interesting route, ride overnight, the most convenient option.
Cons: you need a driving licence, think about parking lots, you wouldn't have a guide with you.
---
3 It is profitable to travel by bus if you want to see one city. For example, Kotor, Budva or Perast. Tickets cost 1-15 euro depending on the distance. Average bus trip is only 4 euro.
Pros: no need to think about parking, it'a cheaper.
Cons: buses are unreliable, you won't be able to get to a lot of interesting places, it's very hot near bus stops.
Prices for excursions in Montenegro, how to save some money?
It's a great selection of excursions here. You can bought some at any agency, from a tour operator or nearby the coastline (I don't recommend this option). Prices and quality will vary greatly. We tried various options for ourselves and wrote detailed article about our experience. Here are some brief conclusions:
We buy excursions for ourselves and our friends on sites GetYourGuide and Viator. You will find good guides and normal prices there.
Tour operators usually also have high quality tours, but prices are often higher and the program may be less informative.
We don't recommend anyone to buy excursions along the coastline. They are compelling with low price, but the quality is poor. The lower the prices and the bigger discounts are, the faster you need to run from such a seller.
My wife and I buy all excursions in advance. Choosing in a relaxed atmosphere is easier: no need to rush, you can read reviews and plan everything. If you're planning to buy several excursions or to book them in advance, GetYourGuide website sometimes offers discounts, so you can save 10-30%.
---
Speaking about excursions, I recommend paying attention to the next ones: Canyons (50 euros),  Kotor Boat Tour (15 euros) or Kotor and Perast from 20 euros, Tara River with Rafting (84 euros) or Ostrog Monastery tour from Kotor (165 euros).
From personal experience I can say that it is better to buy 2-3 excursions for a week. Less is boring, and more is tiring. If you take group tours, it turns out about 65-120 euro per person.
Could be useful: detailed article about group tours pricing and schedule.
Car rental as an excursion alternative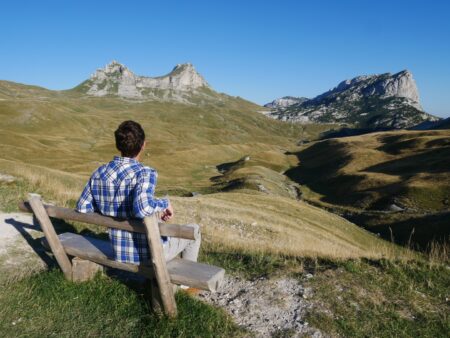 If you travel with a small child or a company of 2-7 people, you can consider renting a car instead of excursions. Specifically in Montenegro, it is very simple and quite cheap. There is Localrent.com website. There are offers of almost all local distributors. Prices and deposits will be much lower in 99% of cases, compared to companies with a worldwide reputation.
We already wrote about the nuances of car rental in Montenegro, we even have an article where we share our personal experience, it is easier to understand what is happening and how, how much it will cost.
Roads in the country are decent, ideas for routes can be taken from the descriptions of excursions, the process of getting and returning a car is very simple: 10-20 minutes for everything. There is nothing wrong with independent trips.
The cost of renting a car depends primarily on two things:
Specific car. The more expensive and newer the car, the more you will have to pay for it. Convertible, sport car and SUV can also cost significantly more than regular car.
Rental duration and dates. In August, when there are a lot of tourists, prices are higher than in autumn. Taking a car for just 1 day is not profitable. The cost per day will be almost 2 times more than the same car rental for 3-4 days.
Inexpensive or small car rental for 3 days will cost about 75 euro. Something more interesting can be found from 100 euro. As you can see, the rental price per day is within the range of 25-40 euros. This will be more profitable than buying 2-3 tickets for a group tour.
Can be useful: detailed article about car rental in Montenegro | Car rental in Montenegro: Woman's Perspective.
How much money will the food cost?
You can eat in Montenegro in diners, cafes, fast food restaurants or buy products from supermarkets and cook yourself. In this regard, the country is very democratic: you can spend time in posh restaurants, but you can also have a good dinner with a very limited budget. The normal amount of expenses is around 20-30 euros per day per person, but there are some people who manage to survive a month with such a budget.
If you compare Montenegro with Europe, then it is quite cheap. Approximately, as in Poland, Czech Republic or Hungary.
How much is fast food cost in Montenegro?
Fast food is very common in the country. There are a lot of meat shops (you will find there hamburgers and grilled meat) and bakeries (rolls, bread, pizza) in Budva, that you may found on almost every corner.
Hamburgers cost approximately 1.50-1.80 euro, and a large slice of pizza — up to 2-2.5 euro.
Of course, the prices are very different depending on the resort where you stay.
It's worth checking out: article about cafes and restaurant prices.
How much does a lunch cost here?
From 5 to 25 euro depending on your appetites and the restaurant quality. With drinks, but without an alcohol. Prices for good wine or beer are about the same everywhere, you can add the costs of alcohol yourself. In some restaurants you can have set meal or business lunch for 5-10 euro.
The portions in the restaurants are usually large and satisfying, especially if you have a lunch not in a major tourist center. You may find photos of dishes and prices in the article about restaurants and cafes in Montenegro.
Where to buy food and how much it cost?
We advise you to buy products in supermarkets. It is usually cheaper there than in markets or in small shops. In an article about cafes and restaurants we wrote about local supermarkets and their pricing policy.
Food in Montenegro costs about the same as in Poland, Czech Republic or Hungary. You can look at approximate food prices here. We also recommend to pay attention to local fruits — they are eco-friendly and very healthy, which may be quite rare in some places.
If you cook for yourself and buy food in the supermarket, you spend about 15-20 euro per person. This makes at least some sense only if you stay here for a long time. That's because you can't buy two spoons of salt or pepper, quarter of a bottle of olive oil, etc, right?
Should I choose hotel with all inclusive/free breakfast?
There are several hotels that support All Inclusive system in Montenegro, but their number  is quite small. Usually these are expensive 4-5* hotels. For instance: Iberostar Bellevue (located in Bečići) and Iberostar Herceg Novi, Slavija Hotel in Budva, The Long Beach Hotel and Sunset Old Town in Ulcinj, Wellness & Spa Hotel ACD (nearby Herceg Novi).
A week in such All Inclusive hotel will cost from 500 euro to 3500 euro. The average price is about 150 euro per day. These are summer prices, if you make an early booking. If the trip is spontaneous, it will be more expensive.
There are some hotels with free breakfast only. In comparison, they are much more popular, than All Inclusive. You can find a good selection on Booking.com. Since most restaurants and cafes opens from 10:00-11:00, sometimes breakfast at the hotel makes sense. Usually this is a simple buffet: cheese, prsut, bread, cereal with milk, etc.
Tour operators often sell packages with breakfast and dinner at the villa. We would advise you to avoid such offers. They simply arrange with one of the nearby restaurants (not always good one) and you will be forced to eat set meals in this place every day. You may want to try some other meal in different restaurant, so it's better not to take this option. After all, you always can go to the restaurant, that your hostess will recommend you.
Do you really need to dine in your hotel?
Montenegro has a large selection of good restaurants and interesting dishes. We showed some photos of dishes and talked about our favourite places in the article about local food.
In most cases food is happen to be both tastier and cheaper in the restaurant next door: from 5 euro per person without alcohol. We like to eat tasty food and spend approximately 20-30 euro for two.
Also keep in mind that most excursions are designed for the whole day. That is, you lose both breakfast, lunch, and even dinner. I'm not sure if it's worth paying for something you won't be able to get.
CONCLUSIONS: It's better to take a ticket without food in most cases.
How much money should I spend on food in Montenegro?
The exact amount will always depend on your budget and preferences. Personally, I know people who manage to survive, spending on food only 30 euro per month. But this is  extreme. The normal amount of expenses will be something like this:
Comfortable option:

20-40 euro

per day per person. This is approximately our level of spending. We buy some products in the supermarket (ideal for breakfast or late dinner), and we go to a good restaurant for lunch.
Great option: from

50-100 euro

per day per person. For such amount of money you can go to great restaurants and eat whatever you want.
A budget option:

10-20 euro

per day per person. Here you will have products from supermarket and occasional set meals at the cheapest restaurants. You need to take a house with a kitchen in order to cook.
As you can see, the difference between a very budget option and a comfortable one is only 10 euro per day.
Accommodation in Montenegro: how much for a night?
To make a vacation truly interesting, you need to travel a lot around the country. Sometimes you have to stay overnight. Here are a few options:
1 Durmitor and Tara car trip. You may have a great trip to Durmitor Canyon and Tara River for approximately (50 euro per person). But it's still more interesting to ride there for yourself.You can rent a car from 25 euro per day. Good apartments in Žabljak or Plužine will cost approximately 50-60 euro per night.
We already described in detail how such a car trip would look like. You can compare it with a group tour.
2 A trip to Kotor by bus. This is one of the most beautiful cities in Montenegro. We do not recommend spending a lot of time there, unless it's your chosen resort: it's quite expensive there and only a few good beaches. It's better to come for a day by bus or a rented car.
Here you may walk through the medieval streets, look at the cruise ships, meet the sunset in one the most beautiful bays of Europe. If you're in a good shape, you may climb the fortress wall (entrance costs 3 euro).
The city becomes especially romantic at night. Dim lights, stone pavement, colourful restaurants and street musicians are waiting for you. We had a feeling that we moved a few hundred years back in time.
There are no buses in a late night. And we do not recommend counting on the last ones, they may not come. You can spend 30-35 euros on a taxi back to Budva, or you can rent small apartments for the same money right in the center of the old city. The answer is obvious to us.
3 Trip to Dubrovnik. If you have time, you can take a bus to Dubrovnik. It will take you 3-4 hours to get there. Trip tickets will cost you 40 euro per person.
It's the most famous city of Croatia. The place is very beautiful, with lots of attractions. It's a good option to spend just one day and see other interesting country. But if you want to see a lot of things, it will be difficult: buses go rarely. So it may be a good option to stay here for a night.
Keep in mind, modest apartments here starts from 40-50 euro, and good options in the old city — from 100 euro.
If you travel on a budget, take a look at Dubrovnik excursion. It costs the same 40 euro as bus tickets. Pros: there will be a guide. Cons: you'll have less time than via bus trip.
4 Kotor, Perast and Herceg Novi. You can rent a car and go around the entire Bay of Kotor in a circle. With stops in Kotor, Perast, Herceg Novi and other places you like.
From personal experience we want to say that it is better not to rush, but to stay for the night in Herceg Novi. That's more interesting.
---
The average price of such stay is 50-70 euro per night, but you can find good options for 25-30 euro. Alina and I usually book apartments for 1-2 nights on AirBnB or Booking.com sites.
How much will I spend on souvenirs and purchases?
It all depends only on your appetites. It is worth saying that nothing really interesting is being produced in Montenegro. All souvenirs mostly shipped from China and Turkey.
The best purchases, we think, are imported goods from Italy (it is best to buy them in Bar or Podgorica) and Serbian textile. There are also good local towels, jam, honey, etc.
We would advise you to have at least 100 euro for purchases, but there are only few really cool souvenirs that you can buy in Montenegro.
Worth reading: detailed article about souvenirs and shopping in Montenegro.
So how much money should you take to Montenegro?
To feel comfortable, you'll need 75 euro per day. You can also live for 50 euro (including purchases and excursions), but you'll need to be modest in some purchases. If you have 100 euro per day — you'll have a very comfortable vacation.
How much money do you need for a week if you live modestly?
If you prefer an inexpensive vacation, but want to visit several excursions and buy souvenirs, then you should take with you at least 300-400 euros per person (this is for a week). With this money you will feel comfortable, but you won't be able to get everything you want.
If you plan to stay here for 10 days, you need 350-400 euros per person.
You can spend 450-500 euro for two weeks in Montenegro.
How much money do you need for a week, if you live in a big way?
It depends primarily on your preferences. In our opinion, in order to eat only in cafes and restaurants and not limit yourself, you will need:
7 days — from

500 euro

;
10 days — from

700 euro

;
14 days — from

1000 euro

.