Most often we are asked questions like:
Is it worth going to Montenegro on vacation at all?
And if it worth it, where should we go and for how many days, so it wouldn't be too expensive?
Well, people also ask quite often when exactly is the best time to come to Montenegro.
Let's try to answer first as briefly as possible, and then we'll tell you in more detail.
The text of this article will turn out to be a little advertising — this is because we're really in love with Montenegro!
Is it worth going to Montenegro?
In short — Yes, it's worth it! This country is not very expensive, it's interesting, with a surprisingly clean sea and exciting excursions at the same time. Montenegro has very beautiful nature and many interesting sights.
But for people who are accustomed to comfortable hotels and "All inclusive" meals, it most likely will not work. Why so — we'll tell you near the end of the article.
Do you want to see this with your own eyes? Check out our selection of stills of Montenegro.
Who should go to Montenegro, what to expect from the vacation?
If you love not only great beaches, but also want to see something new, admire mountain landscapes, see canyons and dense primeval forests — Montenegro will definitely suit you.
Holidays in Montenegro with children
Do you want to show your children the most beautiful bay of Europe, ride a boat with them among the mountains, visit the amazingly beautiful Blue Cave, see mountains and canyons and a primeval forest park? Or maybe you want to introduce them to religion by visiting the world famous monasteries of Ostrog and Cetinje? (although personally I like the Moraca Monastery and the church "Our Lady of the Rocks")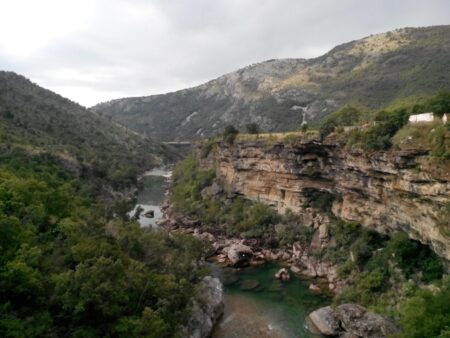 You can also take part in rafting on a high-mountain river, go on a jeep safari (with horse riding) or visit nearby countries: Albania or Bosnia and Herzegovina. And all this isn't expensive (when compared with the prices for excursions in the same Turkey or Egypt, or other European countries).
For families with children, we advise you to choose beaches with a not too steep bottom. There are many of them in Montenegro. In our opinion, Slavic beach and the Mogren beaches in Budva or the pebble Zhanitsa beach are ideal.
At the same time, the concrete beaches of Herceg Novi, Tivat, Perast and some other cities will not be the best option.
Comfort of staying in Montenegro
It's very comfortable to rest here. Local residents know basic English well. The crime rate is practically zero and no one is trying to deceive you. At the markets and embankments, various sellers don't bother you (in most cases), they don't grab your hands and do not interfere with your rest at all. I cannot say this about the popular resorts like Egypt or Turkey.
There are many cozy restaurants and small shops in almost any city. The prices aren't really high, standard resort prices. The currency of Montenegro is euro, which avoids problems with exchangers and unnecessary losses on money conversion.
A small bonus is the fact that a visa is not required for a vacation in Montenegro (with very rare exceptions), which means that you can save both time and nerves on paperwork.
How comfortable is living in Montenegro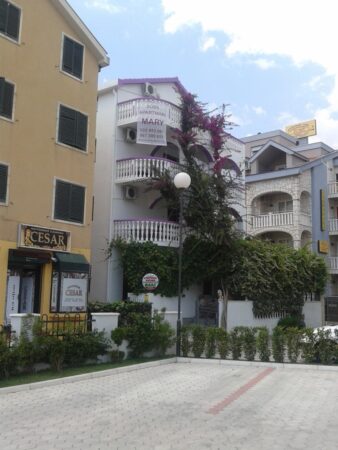 In terms of accommodation, it's not very good to rest here. It's somehow worse to stay here than in five-star hotels of Turkey or Egypt.
The most popular way of settling in is a villa or an apartment. In fact, you rent from the owner one or more rooms with a bathroom and shower. The room will have air conditioning, refrigerator and TV (I have no idea why you need it). In most cases, there is free WiFi, but the speed and stability of the Internet leaves much to be desired (although this did not prevent us from calling home via Skype).
Not all villas have kitchens or stoves, and if there are, they're not always allowed to use them either. The owner or hostess (our name was Zoritsa) may practically not speak English.
Of course, you shouldn't count on the pool. Linen is changed on average once a week.
Meals are not usually offered.
Of course, we are talking about an inexpensive settlement option. If you're ready to pay more, then the conditions will be much more comfortable.
Meals and food prices
The information that Montenegro is a very cheap country is very outdated. Especially in the last few years. But at the same time, prices cannot be called high either. They are just at those level that you may expect.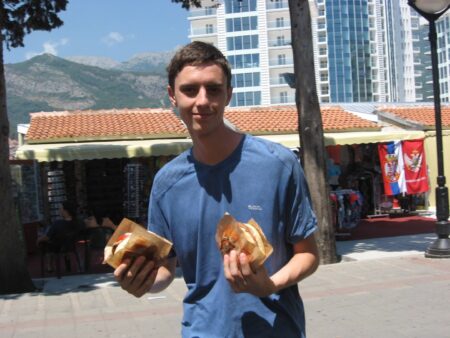 May come in handy: prices for food and products in Montenegro.
The most tourist food we would call hamburgers (cost 1.5 euros) and pizza (about 2 euros). The portions are large, quite tasty and satisfying.
If you prefer to eat in restaurants, there is no problem. There are many restaurants, portions are quite large, everything is tasty. You can have a decent meal for 5-10 euros.
Meals are usually not provided in the villa, and vouchers with meals will take you to the nearest restaurant. In general, we do not advise you to take a ticket with meals at all.
May come in handy: when to take a ticket with meals, and when without.
What can you see and what impressions can you get?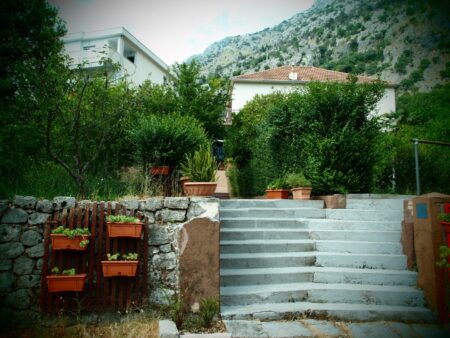 Montenegro is an ideal country to both swim at the sea and to see something interesting. We've been here twice and have had a huge variety of impressions.
Here you can see the mountains and canyons, the church built on a man-made island, touch the Orthodox shrines in the monasteries of Ostrog and Cetinje, just relax and take a ride on a small boat along the bay.
Evening walks through old cities like Budva and Kotor will be a joyful pleasure; they are not only very beautiful, but also surprisingly interesting, colorful and memorable.
At the same time, it is not at all necessary to spend a lot of money on excursions. If you wish, you can save money and travel by public transport.
Bus schedule from Budva
Bus schedule from Kotor
May be useful: description of excursions in Montenegro, schedule of all excursions, description of cities and resorts in the country.
What souvenirs are better to bring with you?
In terms of souvenirs, Montenegro is far from the best option. We were unable to find anything really unusual and useful. All the same Chinese magnets, Turkish clothes and a variety of useless crafts.
Speaking about the food, we advise you to try and bring cheese and prsut from Njeguši, as well as local bread (very tasty). Pay special attention to the local figs. They are delicious and healthy. Yes, and they aren't expensive, about 3 euros per kilogram. In general, there are a lot of fruits in Montenegro that are 100% environmentally friendly.
For clothing we recommend Serbian textiles, clothing, shoes and jewelry from Italy (you need to go to Bar or Podgorica to get them)
Who better not to go to Montenegro, when is it better to choose another resort?
If you are looking for a vacation at the sea and want only to lie on the beach for a week or two, a luxury hotel with a swimming pool and "All inclusive", then Montenegro is definitely not the best option. We advise you to take a closer look at more popular resorts like Bulgaria.
If you like "All inclusive"
This food scheme is not very common in Montenegro. Most inexpensive tours do not include meals at all, and only accommodation is provided.
On the other hand, the voucher will cost you significantly less and you can simply spend the difference on good meals in restaurants.
If you only want the beach and pool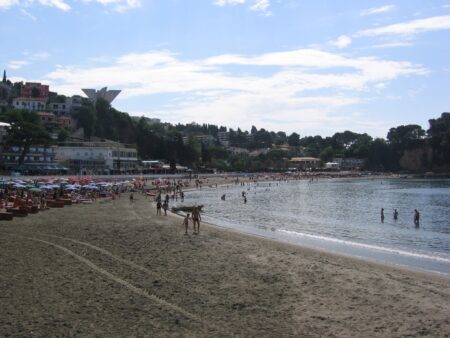 The beaches here are excellent, the water is very clean and warm. But there are practically no pools. In the whole resort town of Budva, we saw only two or three pools.
There are usually quite a lot of people on the beaches. They are cleaned very often — at least 3 times a day, and in fact almost every three hours.
Also, we advise you to visit the beaches of Mogren, they are very beautiful, and the narrow path to them will be remembered by you for many years.
You better to go to Montenegro not only to the sea, but also on excursions, they are very informative and not at all expensive here. This is what attracts a huge number of tourists and compensates for the slightly less comfortable living conditions.
If you don't plan to visit excursions, it's better to choose another country for rest. Cheaper or more comfortable.
If you're used to very comfortable living conditions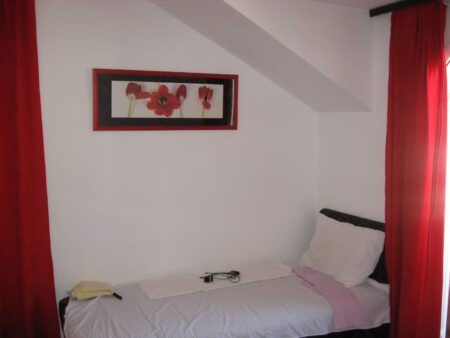 Many tourists are so used to five-star hotels that they even began to forget why they are going on vacation. After all, the value of rest is not at all in the beauty of the hotel (in which, for example, we only spend the night), but in new impressions and emotions.
The average level of living comfort in Montenegro is quite inferior to other countries with a mostly beach holidays. Most likely you'll get a small room, two beds (or one double), refrigerator, air conditioning, shower and toilet in the room. Everything will be a little old, but good quality.
The bedding is pretty basic too. If you come to rest for a week, you will be given clean linen, but they will not be changed. If you come for two weeks, the linen is changed twice.
Of course, there are luxury hotels in Montenegro too, but they cost significantly more, there are not many of them and they are not so popular with ordinary vacationers.