Montenegro is not part of the European Union, a visa to the country is not required. However, there is no own currency here.
What is the currency in Montenegro?
There is only one currency in Montenegro. Since 2002, only Euros (EUR) run here. On some sites you can find information that German marks are used. This is no longer the case.
They also sometimes write that you can pay in dollars or other currency without any problems. In fact, if there was such a thing, it was 15-20 years ago. Now only euros will be accepted. Problems can arise even with a credit card — in some small shops and cafes there are no terminals and they will not be available in the near future.
Don't bring local currency with you
There is no exchange of most local currencies in the banks of Montenegro. I haven't met any exchangers who accept them either. Only some guides can exchange it, but the exchange rate will not be very profitable. We recommend that you bring cash in euros with you. It's better to buy them at home, if its not your local currency. Also, some finances can be stored on the card, but it's better to be also in euro.
If someone is interested, in Montenegro you can find:
banknotes in denominations of 5, 10, 20, 50, 100, 200 and 500 Euro;
and coins of 1 and 2 Euro, as well as 1, 2, 5, 10, 20 and 50 euro cents;
What currency can be used for payments in Montenegro?
There are excursions abroad from Montenegro. If you decide to go on an excursion to Albania (the local currency is called lek) or to Dubrovnik (they have kuna), then in tourist shops you can sometimes pay with dollars (very rarely) and euros (much more often). Change is usually given in local currency, almost never in euros.
In Albania, you can buy cheap silver, food, clothing and more.
From Croatia, you can bring home gold, wine, olive oil, candied fruits and lavender bags.
Do I need cash in Montenegro?
When you're in Montenegro, be sure to have cash with you. Many shops, bakers (pekara) and cafes do not yet have terminals. Cash will also be needed to purchase travel services:
Car rental — not all distributors have payment terminals and know how to freeze deposits on the credit card. The problem is especially relevant if you plan to pick up your car not at the office, but at the airport.
Excursions — even if you buy them online at Viator or GetYourGuide you still need some cash for extra services, like optional lunch and stuff like that.
Buses — at major bus stations you can already buy a ticket at the register. But most of the small ones work only in the reference mode. Tickets are purchased from the driver for cash.
Pay attention!
We recommend booking all travel services in advance while you are still at home.
This not only allows you to save money, but also saves you from being unable to buy something. The fact is that most local services require a small prepayment. When paying online, banks usually send SMS with a transaction confirmation code, which you will not always get in Montenegro.
Without such an SMS, it will not be possible to make an advance payment, so it'll take a long time to solve the problem with the support of the bank or service where they wanted to book something. This is a waste of valuable vacation time.
Most of the souvenir shops along the waterfront with magnets and mugs also don't have terminals.
Is it possible to pay with credit card in Montenegro?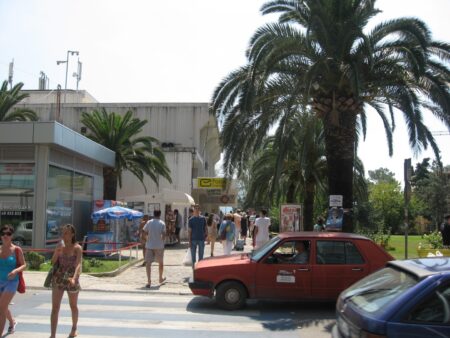 Credit cards in Montenegro are accepted in most large shops and in almost all restaurants. There can be a setup of 3-5 payment terminals from different banks at the cash desks of supermarkets.
In small shops and some cafes (where it's often cheaper and more interesting), cards are accepted less often, they simply don't have payment terminals.
It should be noted that in recent years the situation has improved — almost all restaurants, large supermarkets and even some souvenir shops are starting to accept "plastic money".
However, there are often situations when the payment terminal does not work for technical reasons. Sometimes for several days. So it's better to have some cash with you.
How and where can I change money (buy local currency)?
There are banks in Montenegro, but there are not many of them, because the country is very small.
Some are open only on Thursday and Friday, many from Monday to Friday, and some are open seven days a week.
The opening hours are very different. So be ready for something like this:
The bank will be open from morning until lunchtime (from 8:00 to 13:00 or 15:00), then there will be a break until about 17:00 or 18:00 and it'll work again until 20:00. Some banks don't work at all in the evenings. It all depends on how much of a tourist town you will live in.
ATMs in Montenegro: how to withdraw money from the card?
As you may guess, there may not be a representative of your local bank. So you'll have to use ATMs from other "brands".
There are ATMs for withdrawing cash, but there are not as many of them as we are used to. In Budva, for example, we definitely saw an ATM near the post office. There are also ATM machines near most bank branches.
They say that Montenegrin banks don't charge fees for cash withdrawals. That is, you'll pay only to your own bank for currency conversion and withdrawal abroad.
In fact, losses on conversions and withdrawals range from 0 to 10% compared to buying currency at home for the same amount. We have withdrawn currency twice at different ATMs. The first time "lost" about 5%, the second one — a little more than 3%.
How to save on cash withdrawals in Montenegro?
We've read quite a few forums and discussions regarding cash withdrawals in Montenegro. Here are the conclusions:
1Losses on cash withdrawals due to the difference in rates, additional commissions and fees depend on the bank and the type of card. On average, they range from 0 to 10%. It's better to check it in advance in your bank before the vacation starts.
2Most ATMs don't allow you to withdraw more than 250-300 euros at a time. At the same time, the bank takes a commission for each withdrawal. For example, if you need to withdraw 900 euros, then you'll pay it 3-4 times.
3Be sure to check with your bank before trip if it allows you to withdraw cash abroad. Not all banks have this function enabled by default.
4It's more profitable to have a card in euros and replenish it through your online banking before withdrawing. This way the commissions are less for some reason.
5Sometimes a double conversion is triggered on Visa cards. This is when your local currency is converted into dollars, and only then they are converted into euros. The losses are even greater. Be sure to disable double conversion in the bank settings.
---
IN GENERAL: it's still more convenient to take cash with you to Montenegro. On the one hand, saving 5-10% is not that big, but if we consider that we usually spend 500-1000 euros for vacation (excluding tickets, insurance and housing), then the saved 25-100 euros no longer seem that little.
Alina and I prefer to take the main amount of money in cash, also we keep some money on the card "just in case."
Is it profitable to change money?
In our experience, changing money in Montenegro is not profitable. Too much wasted on commissions, the exchange rate was bad.
To be honest, I don't want to stand in the bank and waste time when I could rest.
What money is better to take with you to Montenegro?
We would advise you to take money in Euros with you and save a huge amount of your own nerves and time. Montenegro is a pretty safe country, you can carry cash with you. For the 6 years that we've been staying there, nothing has ever been stolen from us.
It should be clarified that in small shops it's better to pay in bills of a small denomination: up to 50, at least 100 Euro, otherwise they may not find the change. Of course, there is no such problem in large supermarkets.
May come in handy: how much money do you need to take to Montenegro?
Travel tips: everything you need to know about currency and money in Montenegro.
Let's summarize the most important information about currency, exchange rates and shopping:
in Montenegro they are using only euros;
it's easier and more profitable to change currency at home;
sometimes there can be problems with credit cards, but in recent years the situation has been improving;
if you take a credit card, check that your bank allows you to withdraw money abroad and the commission is not too high;
if possible, try to take bills of up to 100 or 200 euros with you, this will save you from problems with change;
in Montenegro, a tip of 10% is widely used, but it's not necessary to give it.
How much money can you bring in and out of the country?
Without a customs declaration, amounts up to 10,000 euros can be imported and exported to Montenegro. If you come across the numbers 500 or 2,000, then they are outdated.
Interesting fact
One tour guide said to use once that when Montenegro had just switched to the euro, the border guards, who were supposed to control the limits on the import of cash into the country, were absolutely careless: bring in as much as you want, even in bags, or in suitcases.
Now this, of course, isn't the case. But I cannot say that we were asked at least once how much money we have.
For most tourists, the usual limits are enough. If you have more money, it's better to fill in the declaration for your own peace of mind.
In our experience, tourists are not checked in any way and they are not looking for money, but cases when you have to pay a fine for exceeding the currency limit of import / export sometimes happen.