We've been flying on vacation to Montenegro since 2013. We come here almost every summer. Usually for 2-3 weeks. The last time was in August 2019, and now we are thinking about summer 2020.
During this time we lived on different resorts and in various apartments: from a cheap villas that you'll get via a tour to a comfortable apartments that we rent by ourselves.
We liked our stay in Budva. It is not boring here, there is where a lot of beautiful places, good beaches, comfortable accommodation, a large selection of delicious restaurants and relatively low prices. From Budva you can go on a large number of interesting excursions. Or you can rent a car and ride on your own.
Budva is not perfect either. There are some other resorts, that we can recommend, for example Herceg Novi or Kotor. But most tourists that are staying in Budva are satisfied with their holidays.
Rest in Budva: apartments, prices, comfort
Budva is the largest and most popular resort in the country. Most tourists find here an ideal balance of price and quality: good beaches, many restaurants and cafes, many sights to see and an a wide choice of hotel rooms or villas.
A vacation in Budva is better and cheaper than in other resorts on average. Therefore, there are many tourists here, especially Russian. On the one hand, a lot of people are a minus. But on the other, it's mean you will find more restaurants, excursions, car rental companies and shops here.
In most villages where there are few tourists, there may not even be a grocery store. Are you sure this is the best option?
Some people say that it is noisy in Budva. We don't think so. After any metropolis, all of Montenegro resorts seems like a small sleepy village. Disco at night do not play so loudly, you can't hear it even from 200 meters from the sea. Given that 90% of tourists live much farther, we don't see a problem here.
We booked apartments nearby Adriatic Highway in 2019. We thought, that the noise from cars will disturb our sleep. But wooden windows did not let the sound from the street in. If you choose a good apartment, noise will not be a problem.
---
We wrote detailed instructions about how to independently organize a vacation in Budva. There are examples of apartments, prices and useful tips, many more not obvious things. We hope that this instructions will help you. Well, if something is not clear, you can always ask us in the comments.
Pros and cons of Budva for ordinary tourists
Let's take a brief look at the pros and cons of Budva. Please note that most of the advantages distinguish this city from others, and the cons are sometimes common for the whole country, except for mountainous regions or >one street villages.
As you may see, Budva has more advantages. In my opinion, they are more significant. Many disadvantages are applicable for the whole of Montenegro, except for the very unpopular resorts. For example, you will have same problems with free parking or slow mobile data along  whole coastline.
Alternatives to Budva: other Montenegro resorts
Each resort has its pros and cons. First you need to understand what you would like to have from your vacation, and only then you can choose the perfect place for it. We will try to help:
If you want more silence: Perast, Herceg Novi, St. Stephen Island.
If you want easiest transfer to the country: Kotor via cruise ship or Tivat via airplane.
If you need the best beaches: Becici, Rafailovici.
If you want a beautiful town, the beach is not important: Petrovac, Kotor, Tivat, Pržno.
If you want to save as much money as possible: Risan, Dobra Voda, Dobrota, Sutomore and other unpopular places.
Will be useful: detailed description of other Montenegro resorts, their pros and cons
Sights and attractions: what to see in Budva?
If you compare Budva with any tourist city in Europe, there are not as much sights to see here. But if you compare it to other Montenegro cities, the resort is interesting. You'll see more beautiful places only in Kotor, but there are almost no beaches there.
We have already noted all the sights of Budva on the map, but it's better to tell more about the most important ones.
The old part of Budva behind the fortress wall
The main attraction of Budva is its Old Town. Here are concentrated the most beautiful buildings of the resort and most of its attractions. You will be able to see the massive ramparts surrounding the low-rise stone buildings. Narrow cobblestone streets, medieval color and a lot of gift shops. There are also many viewing platforms with beautiful views.
By the way, in 1979, after a powerful earthquake, all this was destroyed almost to the ground  and then restored by the hardworking Montenegrin people.
Review of Citadel: paid place with the best panorama of the Old Town
It offers one of the most beautiful views of the Old Town, the island of St. Nicholas and the beaches of Mogren. On the territory of the Citadel there is a beautiful photogenic library, a small maritime museum with ship models, an ancient symbol of Budva and the ruins of a 15th-century church. We don't recommend a local restaurant; reviews are not very good.
Interestingly, in the 90s the territory of the Citadel was privatized. Now you have to pay 3.5 euro per ticket, made in the form of a postal card. But the views and photos are worth it.
Statua Ballerina and the road to the beaches of Mogren
One of the symbols of the city is the Statua Ballerina. An amazingly picturesque path along the rocks leads to it. It starts at the Avala Hotel and leads to the beaches of Mogren. Along the entire route there are dozens of panoramic sites with views of the Old Town and the island of St. Nicholas.
There is a lot of beautiful and a tragic legends about the ballerina, but they have little in common with reality. In fact, the girl has a real prototype. In 1962, fourteen-year-old Serbian gymnast Olga Kalivoda rested at sea and did not stop training even on the beach. She was noticed by a young Belgrade sculptor Gradimir Aleksic. Then the sculptor asked the girl's father for a long time to let him take her photo in a swimsuit. After father's approval he never saw the model again.
The sculpture was originally installed in Belgrade, where it made a lot of noise. In those days, deliberately rough, chopped forms were popular. People lacked slim, elegant sculptures. In 1965 the sculpture was transferred to Budva and installed on the path to the beaches of Mogren. They say that Olga still comes to Budva on vacation and admiring the sculpture, remembering her young years.
By the way, the sculptor created several similar works. You can see them in Serbia. The Slovenska Plaža Hotel in Budva has another sculpture in the same style.
Despite the fact that you can walk through the entire path in just 5 minutes, tourists usually spend here at least half an hour.
It will be interesting: detailed description of Mogren beach: how to get there and what are it's advantages?
Churches, temples and monasteries
1 Podmaine Monastery — few people know that in Budva there is a full-fledged men's monastery. The place is quite interesting and can even compete with the Moraca Monastery.
The monastery is located in a non-tourist part of the city, on the slope of one of the surrounding mountains. The paved road leads to the monastery, but it will be a little difficult for older people to climb. It takes around 20 minutes to get there from the city center.
2 Saint Ivan Church (Church of Saint John) — beautiful temple in the Gothic style. Finding a church is not difficult. You can easily recognize it by the bell tower rising above the old city. This Catholic church was built in the 7th century (the 600s) and then rebuilt several times. The Holy Mother of God of Budva is kept here — an icon painted by the St. Luke and considered miraculous. Both Catholics and Orthodox worship it. The church is also famous for its library and archives.
3 Santa Maria in Punta, at first glance very small and unremarkable church built in 840. There used to be a rather large Benedictine monastery in Budva, but only a small church has been preserved. Now there is a small free museum inside.
4 Holy Trinity Church — This is an Orthodox church, built in 1804 at the request of believers. It's distinguished by the typical Byzantine style and monumentality of the structure.
If you see that the doors to the church are open — go in without delay. Unfortunately it's closed most of the time. There is an open stage near the church, where some events are performed.
More to know: Description of the main churches, temples and monasteries of Montenegro.
Territory of the Slovenska Plaža and Alexandar Hotels
The territory of the Slovenska Plaža and Aleksandar hotels is more like a separate area. Here is an interesting design of villas that reminds architecture of island Santorini in Greece: white plastered walls and blue shutters.
The whole territory is very green, there are many parks and flowers, fountains, sculptures and original drawings on the walls. The place is very photogenic. You can easily miss here a few hours, walking here in the evening.
St. Nicholas Island (local Hawaii)
The island of St. Nicholas got its name from a 16th-century church. Locals usually call it Hawaii for advertising purposes. Getting there is easy: just take one of the boats that running regularly between Budva and the island. It will cost you 3-5 euro for a round trip.
Now the island is uninhabited, but there are some rumors, that a large five-star hotel will be built here. The island has nice pebble beaches with clear water, but it's very hot. Better to visit it with a fish picnic tour.
There are some basic infrastructure on the island: you can rent a lounge, dine at one of the local restaurants, visit the restroom or take a fresh shower.
---
Of course, it wouldn't be possible to describe all the interesting places in the city in a short article. There are also ruins of the Roman necropolis, gates to the sea, a small zoo, a pier with luxury yachts, several observation platforms.
Budva beaches: local ones and nearby the resort
There are three good beaches in Budva: Slavic, Mogren and the beach near the Old Town. There are also Pizana Beach near the Old Town (not very good), Guvanza Beach at the Duckley Hotel (you need to rent lounges for 150 euros to rest there) and beaches on St. Nicholas Island (Hawaii), where you can get by a boat for 3-5 euro.
If you settle in the eastern part of the city, you can go to the excellent beaches of Becici and Rafailovici. Alina and I sometimes do this. The road takes about 30 minutes by foot. You have to go along the sea through the tunnel at the Duckley Hotel.
You may find a description of Budva with a huge number of different beaches on many sites, but remember that you will have to get there by public transport or by a rented car. We think that this is not worth it.
Budva beaches varies from sand-mixed pebbles on the Slavic beach to small stones on the beaches of St. Nicholas Island. The purely sandy beach is called Guvanza. Beaches of Mogren are close to the sandy.
All beaches here have mostly gently sloping bottom. It will take you about 5-10 meters from the coast to have water around your waist and 10-20 meters along the neck. Some people buy special bathing shoes for 6 euro, but personally we have never had such a need.
The beaches around Budva are called Jaz (6 km), Trsteno (8 km) and Ploce (10 km). You can get there by bus.
May be useful: Sea in Montenegro: all about water temperature and transparency.
Slavic beach (Slovenska Plaza)
This is one of the largest and most spacious beaches of Budva. There is everything you might need: comfortable sunlounges (8-12 euro per set), changing rooms, showers, WiFi (in areas with lounges). There are a lot of good restaurants and cafes, fast food and souvenir shops. The beach itself consists of imported sand mixed with pebbles. It is quite comfortable.
The only disadvantage — there are quite a lot of tourists here in July and August. The situation is not as catastrophic as in Petrovac. Of course, there are plenty of places on the sunbeds, but vacationers with towels are feeling cramped. If you prefer to save a little on sunbeds and instead visit a couple of additional excursions, you will have to come to the beach early. If the extra 10 euro for renting sun loungers is not a problem, you will like the beach.
Detailed article: Everything we know about Slavic beach in Budva
Mogren beaches
Very comfortable, but expensive option. Sunbeds here are more expensive than on the Slavic beach (10-20 euros pet set), same with drinks and food. But this is all compensated by the amazing beauty of the place, and especially the road that lead to the beaches. In general, the place is very photogenic. It is worth a visit even if you do not plan to swim here.
The beach have a flat bottom that is comfortable for children. The water here is warmer and cleaner. Of all the inexpensive beaches of Budva, Mogren's is closest to a definition "sandy beach". But there is small disadvantage: closer to 18:00 the beach becomes cool. It's due to a shade from the hill.
Detailed article: Mogren beaches — how to get there?
Beach nearby the Old Town of Budva
The smallest beach in Budva. It's not much different from the Slavic Beach. Well, except that the nearest souvenir shops and cafes are located in the Old Town.
Almost half of the beach is separated for people from nearby hotels. Instead of standard plastic lounges, wooden ones are installed there, umbrellas are also better. But prices are several times higher — from 20 euro. In general, you can find suitable beach for any budget in Budva.
Detailed article: Beach Ričardova glava (Richard's head) in Montenegro.
Beaches on the Hawaii island
The real name of the island is St. Nicholas Isle. But locals call it Hawaii for advertising purposes. These beaches can be reached by boat for 3 euros. There is another option with a trip to St. Stephen for 5 euro. And yet another stop on the island is part of the fish picnic excursion.
The plus is that the water here is very clean, and it's not crowded. Sun loungers cost about 10 euro, free areas are usually small. The island is very hot, it is easy to get a sunburn or even a sunstroke. Do not go to the island in the early days of vacation. Better yet, visit it with a guided tour and then decide whether to come here for the whole day or not. Hawaii is definitely not on our list of favorite spots.
The bottom is made of medium pebble, it's hard to go into the water. Girls will need help or special shoes that you can buy in Budva.
Becici and Rafailovici beaches
If you get up early in the morning, it is quite possible to reach the beaches in Becici or Rafailovici. These are the best beaches of those that can be reached on foot from Budva.
Sunbeds cost from 10 euro for a set of two lounges and an umbrella. There are even real beds for 25 euro. The surface of the beach is mainly made of very fine pebbles with sand, the bottom is shallow, the water is clean, and there are fewer tourists than on the Slavic beach.
Personally, we like the beach of Bella Vista hotel. It's closer to the Rafailovici beach, so you'll have to walk for a bit. The beach is well equipped: there are good functional sun loungers, changing cabins, a restaurant and a bar, free high-speed WiFi and dry closets. The beach have a small fence, there will be no strangers, so it's easier to leave your things unattended.
Estimated weather in Budva by months
The tourist season in Budva lasts from April to October. If you go to Montenegro and plan to spend most of time at beaches, you should come only in the summer, from June to August. If you are lucky, it will be good in the first half of September, but it's impossible to predict the weather. For example, in 2019 it was cold with frequent rains.
In general, autumn in Montenegro is a lottery. For example, in October it rains for almost half a month. And there is no guarantee that they will not fall exactly on the week when you arrive. If you are a lucky person, you will have a great rest on deserted beaches for a very good price. But keep in mind that the weather can disappoint you.
Please note that the first half of September is often warm and without rain. But no one can predict what will happen in the second half of the month. In 2019 there were continuous rains. Plan your rest in the fall with care.
Food in Budva: restaurants, fast food and supermarkets
In Budva, you can dine with almost any budget. Let's find out the prices:
1 Restaurant Prices. In Budva, there are places for any budget. Inexpensive lunch starts from about 8 euro per person without alcohol. In mid-range restaurants you can eat well for 12-15 euros, and in the best establishments you will spend approximately 20 euro.
2 Set meals. Most popular restaurants offer inexpensive set meals. You will not have the opportunity to choose what exactly you want to eat, and dishes are more simple. But you can have a good meal for just 4-10 euros per person. They usually offer soup, main course, salad and a drink.
3 Fast food. A large and juicy hamburger that not every girl can eat costs 1.7-2 euros. A slice of pizza 1-2 euros depending on the filling. There are specialized bakeries and meat shops where they sell not only fast food. It's usually tastier there.
4 Bakery and meat shops. There are a lot of small shops in Budva where they sell stunningly delicious pastries and fresh meat, which are prepared for free in front of you on the grill. You can buy meat and bread, some vegetables, make a salad and have a full lunch for 15 euro for two.
5 Supermarkets. There are a lot of grocery chains in Budva. First ones that come to mind: Maxi Market, Voli, IDEA, Aroma and Franca. They differ slightly in assortment and prices. You can buy at what is closer to home.
---
We have already prepared a very detailed article about food in Budva, where we talk about prices in restaurants, set meals, supermarkets, mesaras, bakeries and fast food. There is also a map with our favorite places.
Private guided car excursions
If your budget allows, you can take an individual excursion from local residents or guys who was born in your country but moved to Montenegro. It costs more then a regular excursion, but the level of comfort is much higher: a car instead of a bus, a guide that adapts to your wishes, a flexible tour program.
There is a huge number of sites that present excursions to Budva, we used two of them:
Viator — they offer the biggest collection of individual and group excursions along the most common and interesting routes. It's a good choice if you are for the first time in Montenegro and haven't seen anything yet.
GetYourGuide — you will find here original excursions to unusual places. If you've already seen everything basic, here you can find something special and interesting.
May be useful: everything we know about individual excursions in Montenegro
Car rental in Budva as an alternative to excursions
A car rental would be a great alternative to excursions. If you're planning an independent trip, the car will give you freedom and make your vacation unforgettable. Incredible landscapes, hospitable highlanders, inexpensive but amazingly tasty restaurants with national cuisine, travel along the lake in a boat…it's much easier to enjoy all this stuff while travelling by car.
We have a detailed example of such a route, where we talk about our favorite places and share some tips. We hope that your trip will turn as good as ours or even better.
It is especially profitable to take a car if you arrive in spring or autumn. Tour prices remain the same, but the cost of car rental drops quite significantly. If in the summer an inexpensive car will cost about 30 euro per day, when in autumn it can be rented for 12-15 euros.
We use the site Localrent.com for a car rental. It shows collected offers of small local companies with excellent service and interesting cars. For example, the last time we rented a diesel Mercedes B200 in the maximum configuration with a leather interior and other nice bonuses.
May be useful: How a girl rented a car in Montenegro
Ideas for independent trips from Budva
You can make a trip from Budva on your own. Even if you have no money. Here are some ideas for a route:
1 Walk to St. Stephen Island. You can go through the tunnel in Becici and further along the sea right up to the St. Stephen Island. You will see Rafailovici, Pržno and Milocer Park among the way. It's better to go back by bus.
2 Becici. There is a pretty cape with a picturesque path between Budva and Becici . The entrance is located on Becici beach, the whole trip will take less than an hour, taking into account the time to do some photos.
3 Trip to Kotor. There are regular buses to Kotor from the bus station in Budva. We recommend you to leave as early as possible in order to have time to climb on the wall and look at the city and the Bay of Kotor from a height.
4 By boat to the Hawaii Island. For 3-5 euros you can go to the island of St. Nicholas by boat, which is visible from anywhere in Budva. If you spend 5 euro, you will also have a boat trip to St. Stephen Island.
5 Trip to Petrovac. There is a regular bus service between Budva and Petrovac. You can go see the city and take a walk along Path of Health.
6 Trip to Herceg Novi. A good option would be to go to Herceg Novi, which is called a botanical garden of Montenegro. It takes 1-2 hours, depending on traffic jams and a route, a ticket costs 5 euro.
Tour or independent trip to Budva?
We had weekend in Montenegro both with inexpensive package tours and independent trips. Our personal opinion: if you need to save as much as possible, it is better to buy a ready-made tour. But if you want to relax with comfort, it is better to organize everything yourself. As it turned out, this is not at all difficult.
What to expect from an inexpensive tour to Budva?
Let's look at the pros and cons of a package tour in comparison with independent trip:
Prices: a budget tour will almost always come out significantly cheaper than a similar vacation organized by yourself. But if you want a good apartment or hotel, everything becomes unclear. It's necessary to compare prices in each case.
Flight: usually package tourists and independent travelers fly on vacation by the same plane. But there is a nuance: the hotel you liked from a package tour can come with a flight with inconvenient departure time.
Transfer: The tour usually includes the delivery to any of the 3 bus stops in Budva. Then you'll walk along the narrow streets with suitcases. Sometimes you have to go pretty far, sometimes your villa will be nearby bus stop. If you prefer an independent trip, you can somehow get by bus (very inconvenient) or book a personal transfer directly to the hotel.
Accommodation: package tours usually offer a very budget apartment: a tiny room, old plumbing and furniture.
The route: if you are traveling for just a week, you can easily spend it in one city. But if you plan to spend here a long time, it's better to visit several resorts: to live both nearby the coast and in the mountains. There is no such opportunity with package tours.
---
Of course, there are expensive tours with good luxury hotels. But in most cases, the transfer will be on the same bus. And you'll have to carry luggage across the city in the same way. But  the price will be much higher, so you wouldn't win in comparison with independent trip.
You can look for inexpensive tours on the Viator website.
May be useful: detailed article about finding tours to Montenegro with useful tips
Independent trip to Budva
We plan our holidays to Montenegro for the last three or four years. It turned out that this is really easy. And we like the result more than the package tour options.
Let's talk about how you can organize your dream vacation yourself and what nuances should you take into account.
What airports are close to Budva?
Montenegro has two major airports: Tivat (22 km | 40 minutes by car) and Podgorica (65 km | an hour and a half). We advise you to fly to Tivat, it's closer and more convenient.
Some low-cost airlines fly to Podgorica and their prices may be lower. So, you should check both airports and consider which one is more profitable. Use widgets from Aviasales:
Come in handy: Detailed article about the flights search to Montenegro
How to get to Budva: airport, bus, taxi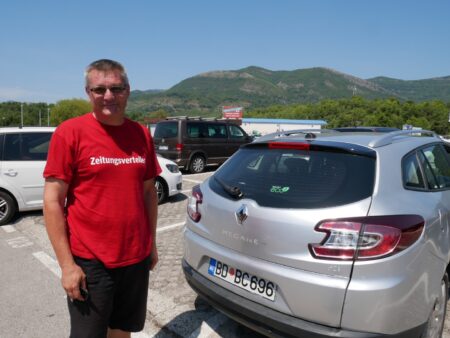 The next step of the trip will be a transfer. It's better to watch it before buying tickets. For example, getting from Tivat to Budva costs from 20 euro, and from Podgorica — from 38 euro. If you need a roomy car, the price difference increases significantly. Sometimes you can save a little on the flight, and then spend this money and a lot of time on the road to Budva.
Alina and I booked transfers on KiwiTaxi. In terms of service, they almost the same, but prices are constantly changing. See which one will be more profitable at the time of your trip.
Transfer is cheaper than taking a taxi at the airport in 99% of cases. But be careful: recently, some taxi drivers call the price, but then use the counter, so price is higher at the end.
The second option to get to Budva is to rent a car at the airport parking lot. Localrent.com is the best site for this. There is a large selection of inexpensive cars from local distributors.
You can also get there by bus, but there is no bus stop either at Tivat airport or Podgorica. You will have to either walk 2 kilometres to the nearest stop, or to catch a bus passing by once every half an hour in the heat and without the slightest shadow. To be honest, we would not recommend this option.
May be useful: all the options to get from Tivat airport to Budva
Planning a travel route to make it even more interesting
If you come here for several weeks, it's not necessary to spend all the time only in Budva. It'll be much more interesting to spend 1-2 nights in Kotor or at St. Stephen's Island, take a rented car to the mountains and live in Žabljak or Plužine. This route will give you a lot of good memories and breathtaking photos.
Come in handy: how we rented a car and created an interesting route in Montenegro
Where to stay in Budva: apartments, hotels, villas
There are a lot of good housing in Budva. You can choose a great option to your liking. We have prepared a short list to start with. But it's not necessary to focus on it. There is a lot of good accommodation.
Look for other apartments and hotels on the site Booking.com
Tourist registration: how to pay tax correctly?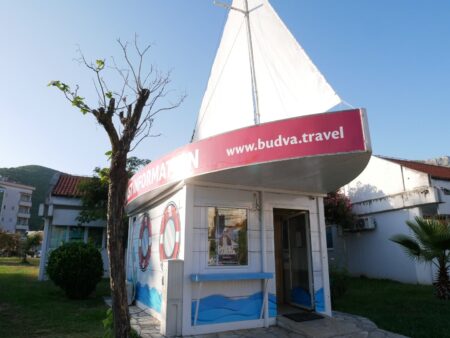 Each tourist must register at the tourist office within 24 hours after arriving in Montenegro.
The owners of most hotels and apartments do not bother guests with such things and arrange everything on their own. Just ask about registration when you check in.
Most likely, your passports will be taken away for a few hours or you'll be asked to show them to make a photo.
If you choose a budget accommodation, you'll have to register by yourself. The procedure is simple, you only need to know the name of the owner of the apartment, take your passport with you and pay 1 euro per person per day. We've already marked all the tourist offices that we know on the map.
It's interesting: detailed article about registration in Montenegro
Do I need insurance in Montenegro?
From a legal point of view, insurance is optional. In 99.9% of cases they will let you in without it. No one has ever asked us to show insurance, nor any of our friends.
But medical services is very expensive for tourists. Every year we see several publications asking for help to people who spent more than 5000 euro for a simple operation. Ear inflammation or rotavirus may easily cost you 200 euros.
Alina and I always do insurance for ourselves. You can see inexpensive options. If we talk about Montenegro to our friends with children, then we recommend to choose more expensive insurance at least for a child.
Come in handy: everything we know about choosing insurance for a trip to Montenegro
Briefly about mobile service in Budva and in Montenegro
Montenegro has 3 mobile network operators: Telenor, T-Mobile, M:Tel. They usually offer different "travel packages" during the summer, from 5-10 euro you can get a lot of mobile data for a short time.
I would recommend buying a SIM card from an operator who doesn't have such packages. The fact is that the networks of local operators are not designed for a huge number of tourists. Everyone buys the cheapest package and in summer the Internet normally works only at night. A more expensive option will at least work.
Alina and I use DrimSim. I want to warn you right away that this is quite specific card for those who travel a lot few times a year. Not for everyone.
Map of Budva: useful places, cafes, restaurants
We highlighted many useful places on the map of Budva: restaurants, beaches, travel agencies, bus stations, parking lots and much more.
Transport in Budva
Budva is a small city, and therefore it's best to move around on foot. Taxi around the city is quite expensive. A trip within the city will cost 5-10 euro. But there are also dishonest taxi drivers.
Water transport is quite common too. By boat you can get to the island of St. Nicholas, Zhanitsa beach or almost any corner of the coast.
A bus schedule from Budva is also useful – they are not very expensive in Montenegro. We also advise you to rent a car, but we warn that some roads in Montenegro are quite difficult, you need to have at least some driving experience. Nevertheless it will be easy to drive on the main highways: the markings are excellent, everywhere there are pockets for rest, the roads itself are really good.
If you plan to rent a car for trips around Budva and to visit some beaches outside the city, we recommend you to search for accommodation with a free parking place in advance. In the summer it's a bad situation with parking lots, everything is full.
If you just need to get to Budva from Tivat or Podgorica airport, it is better to book an individual transfer. We usually use KiwiTaxi. It turns out 2-3 times cheaper than taking a taxi at the airport.