Montenegro is a surprisingly beautiful mountain country with a clean warm Adriatic sea.
In this article we will talk about sea in Montenegro and try to choose a resort that will suit you best.
About the sea in Montenegro
The sea in Montenegro is very clean. In many places, water transparency reaches up to 40-60 meters! At the same time, many tourists note a very unusual and beautiful color of water — Light Sky Blue. This is due to the salts and minerals dissolved in it, which, by the way, are good for your health.
It is worth noting that for some people the water seems slightly cool. This is because of its purity. It is much easier for the sun to heat dirty water.
The salt concentration here is quite high — it will be easy to swim. Also you can find fresh water showers on almost every popular beach. We can't say anything specific about the price: on the Slavic and Mogren beach showers was free, but there is an automatic shower on the Zhanitsa beach, which cost around 50 cents.
Prices for sun loungers are also very different. On the Slavic or Zhanitsa beach, sunbeds cost 10 euros, and on the Mogren beach — 20 euros.
If you are interested in very detailed information about the beaches of Montenegro, we recommend you to see our detailed article about Montenegro beaches.
Montenegro sea water temperature
The water temperature in Montenegro reaches up to +27 °C during the summer. Sometimes cold current bring water from the sea and you have to wait several days until it warms up to a comfortable temperature.
Many tourists say that the water in Montenegro is pretty cool. Yes, indeed from time to time it is not too warm. This is due to a very clean water — the sun heats "dirty" water much faster than a clean one.
I don't know who may be interested in this, but in winter the temperature of sea water in Montenegro rarely drops below +10 °C.
Adriatic Sea in Montenegro — one of the cleanest in Europe
The Adriatic Sea is considered one of the cleanest and seas in the world. It washes Italy, Croatia, Albania, Bosnia and Herzegovina, Slovenia and … Montenegro.
Montenegro resorts — which one to choose?
The following resorts are located directly on the coastline:
Budva — the most popular resort in the country among Eastern Europe tourists with gorgeous beaches (we especially recommend visiting Slavic and Mogren beaches), beautiful nature and rather high prices for souvenirs, shopping and food.
The St. Stephen Island, Rafailovici and Becici are also very expensive resorts with excellent beaches and attractive Mediterranean architecture.
Petrovac is also a fairly popular resort with a large and comfortable beach and a small pier for boats.
Sutomore is one of the cheapest resorts here. As the locals say: "He who has money goes to the sea, and he who does not have money goes to Sutomore." Of course, there are usually a lot of tourists here.
Bar is the business centre of the country, you can both go shopping and relax here. The prices here are much lower, especially for imported goods from Italy (Bar is the only major port in the country), there is a very interesting fortress, but mainly pebble beaches. There are not so many tourists in Bar, as, for example, in Budva or Kotor.
Ulcinj — located nearby with the Albanian border. The city is famous for its excellent sandy beaches and a huge number of sunny days in a year. The holiday season here lasts almost half a year. Also in terms of shopping, it is worth highlighting a little cheaper silver here.
In this article we only briefly described the popular Montenegrin coastline resorts. If you want to know more about Montenegro, we advise you to read articles about Montenegro resorts and popular beaches here.
Montenegro Bays
Approximately half of Montenegro's popular resorts are located not on the coast, but in the depths of large bays. The sea there is very different from the sea on the coastline.
The largest bay in Montenegro is Kotor, which is mistakenly called the southernmost fjord in Europe. Many magazines and book guides divide it into the Bay of Herceg Novi and the Bay of Kotor for convenience. We will not break the traditions and would tell about both of them.
Herceg-Novi Bay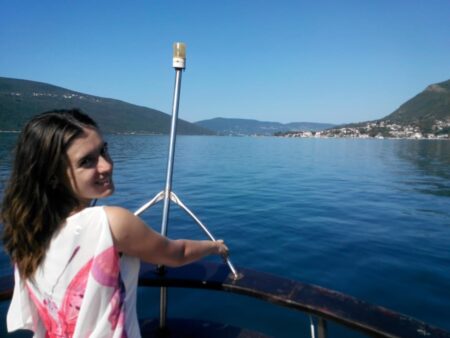 This bay is directly adjacent to the sea. It features very wide open spaces, so you can hardly see the opposite shore. The water here is slightly warmer than on the coast and just as clean. There are a lot of boats, small yachts and even canoes in the bay.
There are not many sandy beaches, mostly concrete and pebble ones. It is worth highlighting the famous Zhanitsa beach, which used to be a closed beach for the President of Montenegro, but now it's open to all citizens and tourists.
There are a lot of interesting sights in the bay. We would advise you to visit:
Herceg Novi — the greenest city of all that we saw in Montenegro, it is also called Montenegro botanical garden.
Tivat — yes, this is the airport where you'll probably arrive and then immediately leave via the transfer. But, honestly, there are some nice things to see.
Zhanitsa beach — a beautiful pebble beach with very clear water (even sea urchins live there) and a beautiful olive trees around.
Mamula Island is a rather interesting Turkish fortification, locking the bay from the enemy fleet.
The Blue Cave — an amazingly beautiful place with a very rich water color.
Personally, we managed to see all the sights during the trip to the Herceg Novi Bay.
Bay of Kotor
It connects to the Herceg Novi Bay through a small isthmus with a ferry. Nearby is Lepetane village, which means "city of beauties".
From the local resorts it's worth to highlight the cities of Perast and Kotor, we already wrote articles about this fascinating cities.
Among the attractions it's worth visiting the Our Lady of the Rocks Church.
There are a lot of huge tourist liners from Greece and other European countries nearby Kotor.
Keep in mind that it's very hot in the Bay of Kotor, you will fill it even if you come here from the coast.
We visited the bay itself during inexpensive and very interesting excursion around the Bay of Kotor.
Sea activities in Montenegro
Despite the fact that the main attraction of the country is its canyons and nature, especially the Durmitor National Park, there are many sea activities in Montenegro.
Let's try to briefly describe the most popular of them.
Diving in Montenegro — explore wrecks and underwater landscapes
Montenegro is a very interesting place for diving. There are many different species of fish, you can find interesting limestone caves, corals and sunken ships.
Most divers are trying to visit the Blue Cave with a surprisingly beautiful underwater world and unusual lighting. The diving depth here is about 60 meters.
If you are more interested in sunken ships, you can find them off the coast of Kotor, Herceg Novi, Bar, Ulcinj, Risan and Petrovac. Some of these ships are very ancient and are considered as an archaeological values.
If you want to go diving, you need to have a special training and get a diver certificate that will be valid worldwide. In Montenegro there are many diving clubs that conduct such training in Montenegrin or English.
People who have serious health problems are not allowed to diving. Children can go diving from 12 years old.
Boat ride — where to go, how to begin and what will you see
Riding a boat in Montenegro is very simple. A similar trips will be offered to you in absolutely any resort. The offer is almost always higher than demand, there are always free places in a boat.
We decided to combine business with pleasure and took a boat trip during excursions along the Bay of Kotor and Herceg Novi Bay.
Fresh sea food — where to try it and what to expect?
Despite the fact that sea food are cooked practically along the entire coast of Montenegro, we would advise you to try them in Kotor, a beautiful city that was under the strong influence of Italian culture and cuisine.
Montenegrins themselves practically do not eat sea food, almost everything is eaten by tourists. Locals prefer to eat meat.
In Montenegro, you can try squid and octopus dishes, sea fish, shrimp, shellfish and much more. If you're not on a budget — we highly recommend it.
Where else can you swim in Montenegro?
In addition to the very beautiful seas and bays in Montenegro, there are many rivers and glacial lakes.
When we visited the Durmitor National Park, we saw people swimming in the Black Lake, and while visiting the Tara River Canyon, we saw guys rafting from the Đurđevića Tara Bridge.
If you decide to go on a tour along Skadar Lake or Piva Lake, you can swim in them. Skadar Lake is mostly overgrown with water lilies, but in Piva Lake the water is crystal clear.
Where can I go from Montenegro?
From Montenegro you can go to Italy, Croatia, Albania or Bosnia and Herzogovina.
It is most convenient to travel to Italy by ferry from the city of Bar.
If you want to visit Croatia, your journey will start in Herceg Novi. You may travel by car or bus.
If you want to go to Albania, it is worth to mention that Albania is not at all the poor country that the older generation remembers. Since oil was found there, the country has been developing rapidly, new skyscrapers and supermarkets appear almost every month, the capital of the country has become a modern European city. You should go here, if you like silver jewelry: it's noticeably cheaper here. If we talk about the excursion to Albania itself, then it's rather modest; you will not see very many interesting places, to be honest.
You can also go to Bosnia and Herzegovina. This is a slightly different country with its own traditions and customs, which are little but different from Montenegrin.
Resorts and sea of Montenegro — map
For your convenience, we added a map of Montenegro with the main resorts and attractions marked on it.