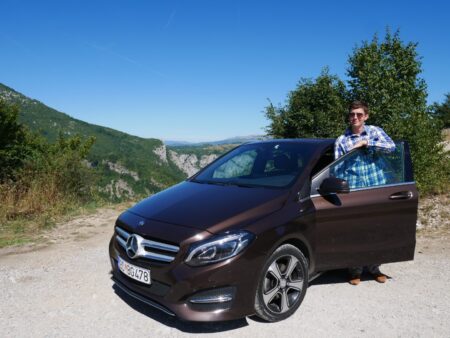 Montenegro is a very beautiful and diverse country, with many attractions and seesights. Some of them you can visit during excursions, but even for 2-3 people car rental is cheaper and more convenient.
For example, the whole country is a lot smaller than Berlin Metropolitan Region and slightly bigger than Île-de-France region of France.So you may travel all the most interesting places here literally in 3-5 days and turn your vacation into an unforgettable adventure for the whole family. And renting a car is a perfect way to do it.
On a rental car, you are not limited by the time of stops or the route. You can drive along stunningly beautiful mountain roads, where ordinary tourists rarely go.
The nature here is incredibly diverse and beautiful. There are mountains, national parks and lakes with an unrealistic color of water, karst caves with stalactites and stalagmites and canyons more than a kilometer deep.
And when you get tired of all this pristine beauty, you can just stay in a restaurant with amazing views and have an incredibly tasty lunch 2-3 times cheaper than on the coast.
The most important thing about car rental in Montenegro
This article is something like a small instruction with all the nuances of choosing and booking a car. It is very useful, but a little boring: where to rent, how to save money, how to protect yourself, etc.
If you want to know how we chose a car and how interesting it was to ride it in Montenegro, read my wife's article: a female look at car rental in Montenegro. There is a route with cool places to stop at, a comparison of car prices and a review of the car that we took for ourselves.
And if you have absolutely no time to read, I will tell you the most important things right away:
Where to book a car in Montenegro?
What is the situation in 2023?
In the crisis year of 2020, car rental companies were actively selling their fleet. In 2021, there was just an incredible demand for cars. Tourists swept away everything and even for a triple price.
In 2022, due to the war in my home country Ukraine, the demand for holidays in Montenegro has dropped significantly. In 2023, the situation has not changed. There will hardly be many tourists, so it's really possible to rent a brand new car 2-4 times cheaper than it would normally cost.
This year there will be especially few tourists in Montenegro. Fuel prices have even fallen slightly compared to last year: petrol 95 costs 1,58 € per liter, petrol 98 goes for 1,61 €, diesel costs 1,41 €.
Considering that prices for excursions last year were raised by 20-25%, traveling by rented cars is becoming more profitable. You'll take the car cheaper, save some money on gasoline.
What documents do you need?
For rent you need driver's licence and two years experience. No matter, what country you are from, they will took your licence. International Driving Permit is desirable but not necessary.

Is it scary to rent a car?
No. The roads are good, albeit with serpentines. Traffic is relatively quiet. And they do not deceive tourists.

What is the best way to rent a car?
It's better to take a car in advance (ideally at least a month before arriving) and for a long time. Not all cars could be rented for 1-2 days. Rental prices for 1 day and for a week can vary greatly.

Is it possible to get a car at the airport?
---
Naturally, everywhere there are some nuances. I will talk about them in detail later in the article.
What documents are needed to rent a car in Montenegro?
The information about what you need to rent a car in Montenegro on different sites and blogs is very different. That's because you can take a car from local distributors, or you can use the services of an international company. The conditions will be different.
We usually rent car via local companies. Here is what they usually require:
Any valid driver's licence of any country. The main requirement is Latin characters.
At least 22 years of age and a driving experience of 2 years. If you haven't enough experience, you can write to Localrent TechSupport, describe the situation and the car you want to rent. They will pick you available options.
Money. To pay for the rental and for making a deposit. You can pay via credit card, but you need to warn that the manager then, so they will take a payment terminal.
Where to look? There is a website that I use when traveling to Montenegro, Localrent.com, where you can look for cars and prices.
If you take a car from one of the international companies, the rules look something like this:
International passport — you will need it to enter the country anyway.
Driver's licence. Sometimes they may even require International Driving Permit.
Must be at least 20-25 years of age and driving experience 1-3 years. The exact requirements depend on the dealer and the car. You have to study them before booking. Otherwise, you'll have to pay expensive insurance.
Credit card. They mostly do not accept cash, debit and prepaid cards.
A lot of money on the card. Deposits are usually within

500-3000 euro

range. And this money should be on the card so that the dealer can freeze it.
Where to look? Prices of international companies can be compared using Rentalcars.com or Economybookings.
IDP in Montenegro is usually not required; you can rent a car without it.
Where is it better to rent a car in Montenegro?
We rented a car several times for ourselves, helped friends and studied most of the reviews on the Internet. With all this experience we can confidently say that in 95% of cases it is most profitable to rent a car on Localrent.com.
It happens very rarely, that international distributors have lower prices. This usually happens either in early spring or autumn. Then you can take a chance and book from them. Check prices here: Rentalcars.com or Economybookings. But personally, I do not like to take cars from large companies.
Local distributors
There are a lot of local distributors in Montenegro. And a lot of companies, that resell the same cars with a huge margin. If you are looking for sites on the network, do not run into them.
Strange story
Last time we rented an excellent Mercedes B200 through Localrent. I payed 60 euro per day with insurance and Green Card (International Motor Insurance Card). Taking into account that it was mid-August (the most expensive season in Montenegro), the car and the price for it were just super. The dealer turned out to be cool, I remembered the name and I even found their site later.
Than, during the autumn, the price for the car went down to 45 euro per day. And on the distributor's site without insurance at all, it costs 100 euro per day. The phone there, by the way, is different.
It turns out that if you go directly to distributors site, prices may be higher than when renting on Localrent. That's because you can't compare prices with competitors directly on a site.
Finding a normal local distributor on the spot is not easy. Not everyone has ads and offices in the center (because it's expensive). Small companies have few cars, in the summer they are all taken. There are almost no reviews about these companies, their websites are of a low quality. So how do you find a good dealer?
Good thing there is a site called Localrent.com. Its founder, Kirill Antoshin, did a great job analyzing all local distributors and collected best of them on one site.
Why we are booking cars on Localrent?
1 It's cheaper here. Before booking a car for myself, I always check prices on different sites and Localrent.com is usually cheaper both in terms of rental cost and deposits. Sometimes about 1.5-2 times.
On the spot, passing by the advertisement of the next distributor, I also compare prices for the car I've chosen. Almost always the price of advertising is either the same or 10-20% more than the price we booked. And it is not yet clear whether insurance is included there. Most likely, you'll have to spend extra money for it.
In an article with woman's perspective on car rental we made a detailed analysis. I'll show you the conclusions:
2 Fixed prices. The site immediately shows the final price. And it's convenient. Personally, I don't like this "price on request" button, that you can find on a lot of sites. I don't want to waste time specifying the final price for each car I liked. And then to bargain for it. It's better when prices are the same for everyone.
3 Big choice. Searching for a car on the spot is a hard task. Especially during the summer. So, I came to the rental company and they showed me 3-4 cars that are available. What's next? Well, I don't have time to go to other offices and compare different options all day.
Localrent have more than 1000 different cars. You can immediately compare prices and choose something.
4 Low deposits and easy-to-understand insurance. Deposits here are the same as in any local car rental company. They start from 100 euro. For a great car they will ask you 200-300 euro deposit. All insurance conditions are written in plain language.
If you go with international companies, deposits starts from 500 euro. For some new cars they'll ask you to give a deposit around 2000 euro.
It would seem, what's the difference does it make if the money is returned back anyway? But a deposit works like a deductible. Insurance will not work until the deposit is used up. 95% of accidents in Montenegro – scratches on the parking lot. And even with good insurance, you will have to pay for them out of your pocket. For insurance with such a huge deductible to work, the car needs to be broken almost into trash (I am exaggerating, but not much).
By the way, a deposit payback is not an instant process. Usually it takes 3-5 days, but sometimes up to one month. And all this time you'll have money on the card but you won't be able to spend it.
5 Specific car selection. All international distributors only allow you to book a car of specific class. There is always a new cool car on the photo, but you can get something much worse. For example, we once booked a new Audi A6 but got the old Skoda Superb instead. Both cars are good, they are in the same class. But Audi is much more expensive and comfortable, I think.
Everything is different via Localrent. You choose a specific car (for example, you can choose the color, engine and seat material). This is great if you want to drive your dream car or to do a photo shoot in a convertible.
6 Additional services. All additional services and their price are immediately visible on the site. No one will try to sell you extended insurance. You see the price and decide for yourself whether it is worth buying.
Here are some useful options: booster car seat, the second driver in the contract (often for free), navigator.
7 Great attitude. The distributors are trying to help their customers (we once found out where a good car wash is) and any unpleasant situation is resolved quickly and humanely.
For example, when we scratched a car, we were charged only a small repair fee and the rest of the deposit was returned. Another time, a hernia popped up on one of the wheels. They didn't take any money from us. Although they had the right to take 300 euro from a deposit.
8 Guarantees of getting a car. Booking a car here, we are 100% sure that we will get it. Even if other tourists smash the car into a wall, the service will offer us a replacement option.
It happened to us in Georgia. Our car got into an accident and we were offered a car much better (it cost almost 2 times more) without any surcharges and with the same deposit.
9 Transparent conditions. Comparing two distributors only by price is not wise. Because there are dozens of options how they can make money on you. You have carefully read the contract.
And this is not a guarantee that you will choose the most profitable option. For example, harmless phrases like: "Local fees are paid on the spot" or "Local taxes may be required at the rental point" easily add up to 150 euro to final check.
On Localrent the conditions are the same for everyone and are clearly stated. It's absolutely clear how much and for what you will pay. We have never been in a situation where the price on the site was at least somehow different from the actual one.
---
I think I have mentioned enough advantages. It may look like aggressive advertising. But the site is really good, we are happy to use it in different countries and have never been disappointed.
Car rental through this site have another hidden advantage. The distributors serving clients from it even better and more honestly than their own, because in case of disputes, Kirill always stands on the client's side up to removing the distributor from the site and compensating from his own funds.
Among the disadvantages the fact that it is basically impossible to agree on a discount (when communicating directly with a distributor in spring, autumn or winter – sometimes it happens), and it is also necessary to make prepayment. Although there is a plus, because the company gives you a voucher and must provide a car. Without advance payment any arrangements are just words.
If you rent a car on the spot, you can see the car, it condition and configuration. When booking on the site you have to focus on the year of manufacture, a brief description and literally 2-3 photos.
Another thing that bothers me is the lack of filters for a particular brand or model. For example, Alina likes Mazda 6. This is not the most popular car in Montenegro. To find it I have to look for it among hundreds of options for a long time.
Car rental prices on Localrent.com
International rental companies
Montenegro has several international companies, for example Hertz, Europcar, Sixt, Avis. If you don't want to compare prices for each of them separately, you can use meta-search engines. They will automatically check the sites of all distributors and find the best deals. An example of good meta-search sites: Rentalcars.com and Economybookings.
I want to say that when we were looking for a car for ourselves and our friends, prices from international distributors were much higher than from local ones, large deposits were required (500-3000 euro with the credit card, not a debit one), and sometimes even International Driver's Permit.
Why do not we recommend international distributors?
You need to understand that all international distributors in Montenegro work on a franchise. In fact they are the same as local ones, but they paid for the right to be called Avis or Hertz and now trying to get return on investment. This can easily be verified. For example, on the official website of Hertz there is no Montenegro.
I try not to take cars from international companies. They are more expensive, and the attitude towards customers is far from always good.
If you want to read the reviews, I chose several well-known companies: Sixt, Europcar, Hertz, Avis. Follow the links and read. Pay attention to those that are specific and with details. It seems to me that some companies are clearly cheating: there are so many 5 star reviews without details and with strange photos.
I will summarize what I managed to find out:
The total rental price may be much higher than the declared.
If there is no credit card, they will impose additional insurance for

20 euro

per day. Debit card does not good enough for them.
Very high deposits. Average,

700-3000 euro

. If there is no such money on the card, you will have to buy pricier insurance. And this raises the cost of rent.
Even tourists with maximum insurance can be fined for scratching a car. Usually in inconspicuous places or even under the bottom of the car.
Many people are faced with queues when you have to wait more than an hour to receive a car.
Booking via the Internet does not guarantee that the price and / or conditions will not change upon receipt of a car. Sometimes the cost of a car rises significantly.
Significantly overpaying for rent in a large company, people expect good service and attitude in any unusual situation. But sometimes you wouldn't find it.
Reviews in groups also mention mandatory insurance and fines for scratches, even if they are clearly visible on the video that tourists made before renting particular car.
We do not recommend using international distributors for our friends, but if you have a positive rental experience with a company or bonus cards, you can take a chance. Just be as careful as you can.
Check the prices from International Distributors on the website Rentalcars.com
Conclusion: every time you book a car, you need to check both international and local sites. Most often the prices on local sites are more profitable and the conditions are more comfortable.
When is it better to book a car: in advance or on the spot?
Booking a car online is more profitable than renting it on the spot:
When booking in advance, you can compare prices from different rental services and choose the lowest, study all terms and conditions, order additional options, insurance or a International Motor Insurance Card for a trip to Croatia, Albania or Bosnia and Herzegovina.
You can book a car with  an option of car delivery to the airport and save not only time, but also money for a transfer.
During the season local distributors like to overcharge clients if they see that the tourist is ready to pay more. But they are forced to compete with each other on the Internet and therefore prices are sometimes even lower than when booking at the office.
From the point of view of the price and quality, best cars are taken in advance. What remains is what no one wanted to book: either the car is not very comfortable or the price is too high.
You don't have to spend the whole day looking for rental office and analyzing it's pricing policy.
When booking through Localrent.com you get additional fraud protection.
Booking at the office has other advantages:
You can see the car before booking and estimate it condition before rental.
Sometimes distributors have "windows" for 2-3 days. If you are very lucky, it's possible to bring down the price a little.
Car rental in Montenegro: all prices and terms
For convenience, search from Localrent.com is integrated on this page. You can either book directly from their website or through ours. In case of difficulties or questions, we have a direct contact with the owner and we'll help to solve all arising problems as quickly as possible.
The prices are the same as when renting a car at the office of rental company (sometimes even cheaper). We checked it ourselves when we rented a car the last time. Here is our comparison.
But there is a nuance: offers from dozens of different companies are collected here. They may have slightly different insurance conditions, deposits and the cost of additional services. For example:
Cars can be offered a little cheaper only with TPL insurance (and for extended insurance they may ask for

50-100 euro

more), but the exact same car with free TPL  + CDW + SuperCDW + Green Card Insurance can cost literally

5-10 euro

more. So we recommend you double-check.
It's not a fact that a more expensive car will be better. There are some cases when the car condition is worse, its older, and the price tag is even higher than the newer model. Sometimes this is due to the unusual color of the car (red or yellow cars are more expensive), and sometimes "it just happened".
Some cars have shipping charges. You'll have to pay it, for example, if you want to pick up a car in Tivat, but it is actually located somewhere in the Bar. Sometimes cars due to post-delivery costs become more expensive than cars, for which you don't have to pay shipping fees. You'll have to check it too.
Conveniently, Localrent.com site automatically calculates the final price, taking into account all fees, taxes, insurance, etc. I usually open several different cars that I liked the most in different tabs, mark the necessary options and then look what car is actually cheaper. And then, together with Alina, we decide whether we are ready to pay more for the "comfortable and cool" car or not.
Tivat airport car rental: how to do it?
If you come to Montenegro on your own, It would be a good option to rent a car at the Tivat Airport.
It happens like this. After booking a car, you get a rental voucher with phone number (usually even two). The car will be driven to the parking lot directly in front of the airport, and the dealer will meet you at the terminal exit. You'll sign the contract directly in the car and in 10 minutes you are ready to drive. In case of a flight delay, they will wait for you.
When inspecting the car, I advise you to take a video to note all the dents and scratches. This protects you in case of contentious situations. And also it helps you to keep a good mood. For example, you find a scratch on a car. Was it here before, or did I make it? Just check out the video.
You give back a car in the same way. You just drive into paid airport parking and write to the manager. He will find you himself, accept the car and return the deposit.
In general, the whole process goes very smoothly and conveniently for a tourist. Distributors are interested in positive reviews and recommendations. For example, the last time we gave a car back, manager looked at the car from the front and back and said "OK, everything is fine." He didn't even look inside the car, and that was it.
Tips for tourists – which car is better to rent in Montenegro, how to avoid problems?
Montenegro have a very high quality roads, but they vary greatly:
There are roads with excellent markings and hard shoulders where even a beginner can easily drive. For example, a good road on the route Budva–Nikšić–Žabljak.
It will be a little more difficult, but much more interesting to drive from Budva to Žabljak through Kolašin and Đurđevića Tara Bridge
The road along the alpine Durmitor, through the Saddle Pass (or Sedlo Pass, as locals call it),  Ladder of Cattaro in Kotor, or the path from Bogetici to the Ostrog Monastery is more complicated. To drive there, it is advisable to have at least some experience.
There are really difficult roads with stunning views, but for obvious reasons they are not particularly popular with tourists. They often have only one lane, so you frequently need to drive backwards to pass another car.
To travel with comfort we advise you to take a car with a fairly powerful engine and small dimensions. It's easier and safer to drive such a car here.
What type of car is better for rent in Montenegro?
First you need to decide why do you even need a car? If you just want to go to the beach, you can choose the most simple machine. Although I would still overpay for a good air conditioning. But if you plan to go to the mountains or drive across the country, it is better to take a more powerful car.
Automatic or manual transmission? Take what you are used to. We were okay with both manual and automatic transmission.
Diesel or gasoline? Diesel engine is more profitable in terms of fuel consumption, but this cars are more expensive. In fact, the difference in the final price and comfort is minimal. You can choose whatever you like.
New or old car? We usually take cars 4-8 years old. I think that this is the best option. Brand new cars are more expensive, and any scratch will cost you a pretty penny. You also can't expect at least some comfort and 100% serviceability from a very used car.
Large or compact? We recommend you to take smaller than average car, but with a powerful engine. It's uncomfortable in compact car. And the huge ones will make you nervous on narrow corniche roads.
But if you drive something like Toyota Land Cruiser at home, you can safely take bigger car on vacation. On any of the tourist routes you can even travel by minibus.
Expensive or cheap car? Here you have to decide depending on the budget. Just keep in mind that you should not expect anything special from a cheap car. I would recommend to choose a car with a price tag around 50 euro per day. You're able to find great options for this price.
How to choose car with a powerful engine? We usually take car with an engine capacity of 1.5L or more. This is not the most correct indicator, but usually it is enough to not experience problems on mountain roads.
Should you take a convertible? A convertible is a great option for trips along the coast or the Bay of Kotor. It has excellent visibility, and the photo looks stunning. But I wouldn't go to the mountains in a convertible. If the weather turns bad, even with a roof closed it can be cold and damp.
Keep in mind that convertibles are a bit more expensive. And there are a lot of old cars that are no longer comfortable now. I would recommend you to take a convertible for 2-3 days, ride it, and then change the car to something more practical.
Car brands and models that I would recommend for rental in Montenegro:
I do not claim to be an automotive expert. But since I know Montenegro well and traveled a lot on different cars, I can express my subjective opinion. Here's what I would recommend to my friends:
1 For trips to the beach and along the coast. It is best to take a small car. It is inexpensive, fuel efficient, and parking is very easy. Yes, it will be a bit cramped, but you're not travelling far. The main disadvantage of such cars is that air conditioning usually does not work very well, especially when driving in heavy traffic.
Specific models: Toyota Yaris 1.3, Skoda Fabia, Mazda 2, Renault Clio, Hyundai i20, VW Polo or Golf, Mini Cooper.
You can take a convertible for such purposes. But I'm not a fan of such cars, so I wouldn't advise some specific models.
---
2 For trips around the country. Since you will be on the road almost all day, it is better to take a little more spacious and comfortable car. It also have to be powerful enough for driving uphill.
Specific models: VW Polo or Golf, Renault Megane, new Toyota Yaris 1.5L (they are pretty powerful), Hyundai i30 or Elantra, Toyota RAV4, VW Passat, Audi A3 or A4, Skoda Octavia, Mercedes B180 or B200.
I wouldn't risk to go to the mountains in convertible. If the weather is good, the trip will be excellent. But if it's raining or cold, it's not very enjoyable in a convertible even with a closed top.
---
3 SUVs and crossovers. You can drive through most of the tourist routes even in a good compact car like a new Yaris. But if you plan to drive off the roads, it is better to take a crossover at least. There are places in the country where you need a full-fledged SUV.
Specific models: Suzuki Vitara or Jimny 4×4, Toyota RAV4 or Land Cruiser, Hyundai Tucson or Santa Fe, AUDI Q5 or Q7, VW Tiguan, Mercedes GLC.
---
4 Minivans and cars for 7-9 people. If you are going to relax in a large company with children, it is often more convenient to rent a large minivan, minibus or a car that can fit 7 people instead of two small cars.
Specific models: Renault Grand Scenic, Hyundai Santa Fe, Ford Transit (for 9 people), VW Touran or Tiguan Allspace, Toyota Land Cruiser, Opel Vivaro (for 9 people), Volvo XC90, Mercedes Vito or V Class (for 8 people), Audi Q7.
---
5 What cars I do not recommend? Personally, I usually don't take such brands as Peugeot, Citroen, Opel, Ford and Fiat. Let me explain my point of view:
Peugeot and Citroen make cars with a spectacular design. But the ergonomics and layout of the buttons are specific, not always intuitive. Renting a car, I don't really want to spend time trying to find some specific button, that I need to press right now.
Some cars of these brands have problems with reliability. Even fairly new cars can break. Of course, the car dealer will repair the car. But I also have no desire to get stuck somewhere in the mountains. I do not claim that all Peugeot or Citroen cars are unreliable, they make some very worthy models. Especially if the car was designed by Toyota, or Peugeot/Citroen did the design only. But I am too lazy to read reviews every time before renting .
Opel make some practical, a little boring and really uncomfortable cars. Some models of this brand are also not reliable.
You should look on specific model while renting Ford. Too often Ford car rental prices are on par with German cars, that for me better in terms of interior comfort and handling.
Fiat is not popular in Montenegro. There is no real choice. Just a few cars that I'm not interested in.
Is it possible to drive in a rental car to Croatia, Albania or Bosnia and Herzegovina?
To be able to travel outside Montenegro, you need green card insurance (check the dates on it, card have to be valid). The contract should have line that say "car can be driven abroad". It looks like this: handwritten "Moze vozi van Crna Gora" (or something like that), signature and stamp.
If you're a resident of EU, you don't need visa for travelling to Croatia, Bosnia and Herzegovina and Albania. In other cases, we recommend you to check whether you need visa or not.
insurance for rental: TPL, CDW or SuperCDW?
Montenegro has three types of insurance:
TPL — the most common insurance in Montenegro. If you are not to blame for the accident, then you do not pay anything at all. Need a police report. It comes with all cars for free.
But there are some exceptions: if driver at fault drove off from the scene of an accident (for example, he scratched your car in the parking lot and left), then you will have to pay.
TPL+ CDW — have a deposit. It's usually 100-300 €, for very expensive cars, the deposit goes up to 500-1000 euro. If you have CDW, even if you are to blame for the accident, you risk only deposit. Everything else will be covered by insurance.
Given that 99% of accidents in Montenegro are minor damage, not higher than 100 euro, this type of insurance is useless in most cases. You can buy it for your own peace of mind.
CDW always comes with TPL. If an accident is not your fault and there is an identified driver at fault, the insurance compensate everything.
PAY ATTENTION
TPL and CDW does not cover damage to wheels, windows, interior and the bottom of the car. By the way, this are the most vulnerable parts of a car. They can be damaged even if you are not to blame. For example, stone flew into the windshield, or you hit a nail somewhere.
This is an international practice – it works this way almost everywhere, not only in Montenegro. If you want to feel fully protected, choose SuperCDW. It usually costs around 5-10 euro per day. The price depends on the car you rent.
SuperCDW is a CDW extension. It protects against any accidents (even if you are to blame), as well as from damage to the windshield, wheels or bottom of the car that exceed the size of the deposit. So, it's the same as CDW but with additional protection of the windows, wheels and car bottom.
Keep in mind that each distributor and each car have different insurance options. Some companies provide you with all insurance for free, some companies offer only TPL, so you have to pay for CDW, some offer CDW insurance only.
What is a deposit and why you have to make it?
A deposit is the amount of money that rental companies take from you in case of any car accident. If you haven't SuperCDW, any serious damage to the windshield, car wheels or bottom, will be covered from the deposit. If you give car back without any damage, deposit will go back to your account
For other damages, the amount of deposit will be spent only if you are to blame for the damage.
How often do they take a deposit?
Before writing an article, I contacted Localrent support. They shared interesting statistics with me:
In 95,69% cases, the deposit is returned to customers in full.
In 2,8% cases they take up to

50 euro

. Usually that's a minor scratches.
In 1,28% cases they take

51-199 euro

.These are serious dents and noticeable damage.
In 0,23% cases clients get into serious accidents that cost them about

200 euro

. This is approximately 2 cases per 1000 customers. As for me, it's a small risk.
Keep in mind that these statistics are specifically for Localrent. And they make sure that the deposit is withdrawn only in really bad situations. Other companies may have completely different numbers.
What insurance type is better in Montenegro?
99% damages that occur in Montenegro are minor scratches and dents, broken headlights, etc. All this is NOT covered by CDW insurance.(repairs cost less than deposit amount), and therefore it is more beneficial to distributors rather than tourists. If you drive a car for 10 years without any problems, what is the probability of getting into an accident in Montenegro?
TPL covers damage if you're not responsible for the accident and the driver at fault didn't escape from the scene. If you have a great driving experience we recommend you to choose this insurance. According to Kirill and other distributors, over past 10 years there has not been a single case when the car was seriously damaged due to the fault of tourists and a really large amount or money was paid for repairs.
For inexperienced drivers who are not completely confident in their abilities, an ideal option would be to overpay for SuperCDW. This will give you the maximum level of protection.
Advise: If you suddenly get into an accident, be sure to fill out a police report. And don't forget to tell the rental company.
What should you do if you suddenly damage a car or get into an accident?
In general, distributors usually close their eyes on small scratches or dents. Larger damage is usually paid out of deposit.
Cons of new cars
If the car is brand new and beautiful, even a small scratch will matter and cost more. That's because it catches the eye and spoils the appearance of the car.
Therefore for mountain trips we usually rent cars that are at least 3-5 years old. They are already scratched, sometimes slightly dented and no one will pay attention to minor damage.
If suddenly something occurs, we recommend you to call the car distributor (it's number you can find on voucher that will come after booking and in the contract). Usually local companies solve all these issues very quickly and profitably for tourists. They have connections at different levels, and therefore sometimes it is more profitable for them to quickly solve the problem and not involve insurance at all.
After the call follow the instructions from the dealer. In case of any problems, you can write in support of Localrent. There are very friendly guys and they will definitely help.
Parking, gasoline prices and traffic rules
There are no serious traffic or parking rules in Montenegro, but nevertheless it is worth to pay attention at some details.
Parking rules and fines
Most parking lots in Montenegro are free. You can park everywhere where it does not violate traffic rules: on any side of the road, in the courtyard of the villa, or in parking lot.
There are paid parking too. Prices vary from 0,5 € up to 2 € per hour. The more popular the resort, the higher the price. You can pay for parking via SMS from a local number or using a parking meter. Detailed instructions are always under the parking sign. The minimum payment period is one hour.
In Budva, payment is only via parking meter. You throw coins into the parking meter that are enough for the time you need, print a check and put it under the windshield in such a way that the controller can see it. If you want to extend parking time, you need to return and pay extra.
We prefer large parking lots with a booth and a cashier. It works like this: to raise the boom barrier you need to press a button and take the check. On that check you will find current time. Upon departure you present this check to the cashier and pay for parking.
Important: we recommend you to play fair: it's better to comply with parking rules, even if locals ignore them. Also take fines seriously. It's better to pay for them, otherwise on your next visit to Montenegro some serious people can "meet you" at the airport.
We strongly recommend that you do not violate parking rules – a tow truck in Montenegro is expensive, and fines are big.
Specific traffic rules in Montenegro
There are literally several rules in Montenegro that differ from ours. Here they are:
If the traffic light has an additional section and it does not light, then you can still go on green light. An additional section may allow movement in the indicated direction when the red light is on.
The dipped headlights must be constantly on. Regardless of the time of day or season.
Cars that are already moving in a circle take precedence.
Green light for pedestrians and drivers can light up at the same time. Pedestrians have priority. If someone crosses the road when you have green light, do not rush to signal. Most likely, the pedestrian have green also.
Allowed blood alcohol content is only 0.2 ppm. So you can't drink while driving at all. This is strictly monitored.
The maximum speed in the city is 50 km per hour. Out of town – 80 km per hour. Locals sometimes break this rule, but you better not risk it. The police work well. They stand by the roads and ride in civilian cars.
Children under 5 years old must be transported in special chairs. If you have a kid in the front seat, you'll need the chair up to 12 years old.
Gas stations and gasoline prices in Montenegro
Some time ago, gas in Montenegro was very dirty. We even advised not to take cars that are sensitive to fuel quality (these are mainly German brands). Now the situation seems to be normal, there are no special problems.
Often there are reviews that at EkoPetrol gas stations they're pumping lesser volume of gasoline that you paid for. So you better monitor the refueling machine. Ideally, we recommend you ask about the current situation with gas stations and gasoline when you rent a car. Sometimes they can give you very useful advice.
Also, don't forget that you must return the car with the same amount of gas that it was provided with.
Gas prices: petrol 98 — 1,61 €, petrol 95 — 1,58 €, diesel fuel — 1,41 €. Compared to last year, fuel even slightly cheaper. You can drive more for the same money.
It will be useful: detailed article about roads in Montenegro and local traffic rules
Car rental reviews in Montenegro
Before the next trip to Montenegro, we studied the feedback on the forums, in social networks, the experience of travelers and other readers of our site.
The information is rather contradictory (which is natural), but we made the following conclusions:
International rental companies usually have higher prices. The service is excellent, you can find angry reviews only in case of scratches or dents. People overpaid for the service and individual approach, but did not have it.
The work of local distributors is depend on the particular agency. The most positive reviews are about Localrent.com, which is why we recommend this service. We ourselves booked few cars here and were satisfied with the trip.
In most cases, people are satisfied with their rental experience. Montenegro is an interesting country after all.
It's not necessary to overpay for the navigator. You can work with the one on your smartphone.
Montenegro is a country of mountains. Therefore, the cost of gasoline may be slightly higher than expected. At the same time, it is still better to book a car with a powerful engine.
Fears that arise when renting a car for the first time usually have no real basis.
You can add your feedback and questions in the comments. This will help other tourists.